News story
HMS Northumberland returns home from seven-month patrol
There was jubilation at Devonport Naval Base on Friday, 10 May, as HMS Northumberland returned home from a deployment to the Middle East.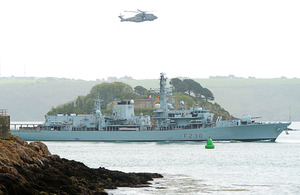 HMS Northumberland departed UK waters in October 2012. Since then the ship has steamed over 45,000 miles, crossed 5 time zones and visited 11 countries as she carried out her counter-piracy and counter-narcotics duties.
With the Merlin helicopter from 829 Naval Air Squadron and embarked detachment of Royal Marines, the boarding teams from HMS Northumberland conducted 71 operations, one of which resulted in the capture of bales of cannabis resin which had an estimated street value of £5.5 million.
Patiently awaiting the ship's arrival were hundreds of family members and friends of the crew. While they waited in the cold they were entertained by the HMS Drake Volunteer Band and a big cheer went up as the ship was spotted coming up the River Hamaoze.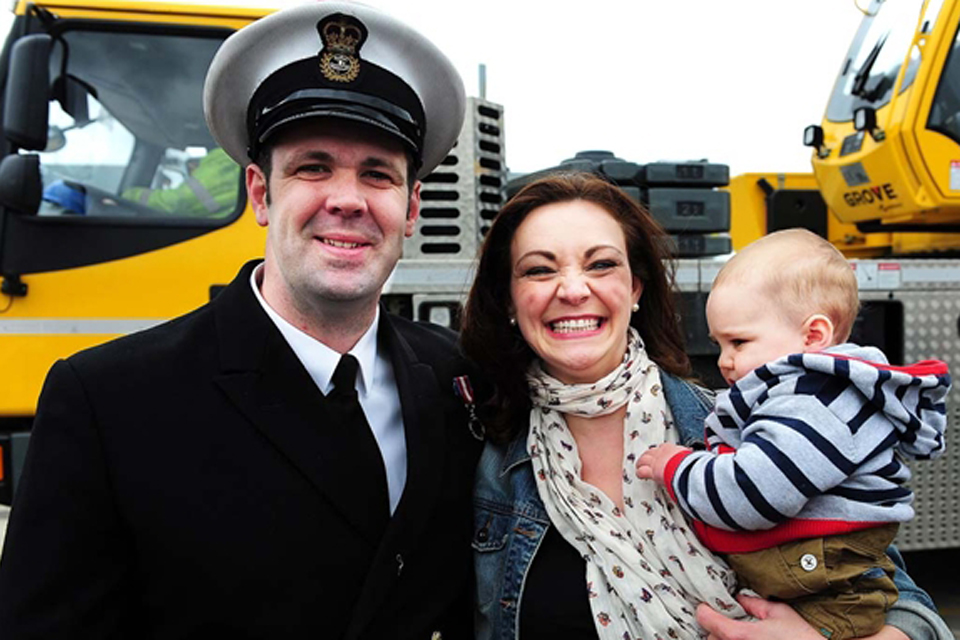 Excitedly waiting on the jetty was Vicky Saunders, the partner of Chief Petty Officer Paul Baker, with their 7-month-old son Thomas.
Ms Saunders said:
Paul hasn't seen Thomas since he left Plymouth last September when Thomas was just 3 weeks old. We managed to make a few Skype calls during the deployment but it's not the same as seeing him in the flesh and Thomas has grown so much since he last saw him.
Also waiting on the jetty were the family of Chief Petty Officer Gary Crabtree. It is his last deployment before he leaves the Navy in July 2014, and to mark the occasion they dressed up in naval uniforms and had made masks of his face to wear to greet him.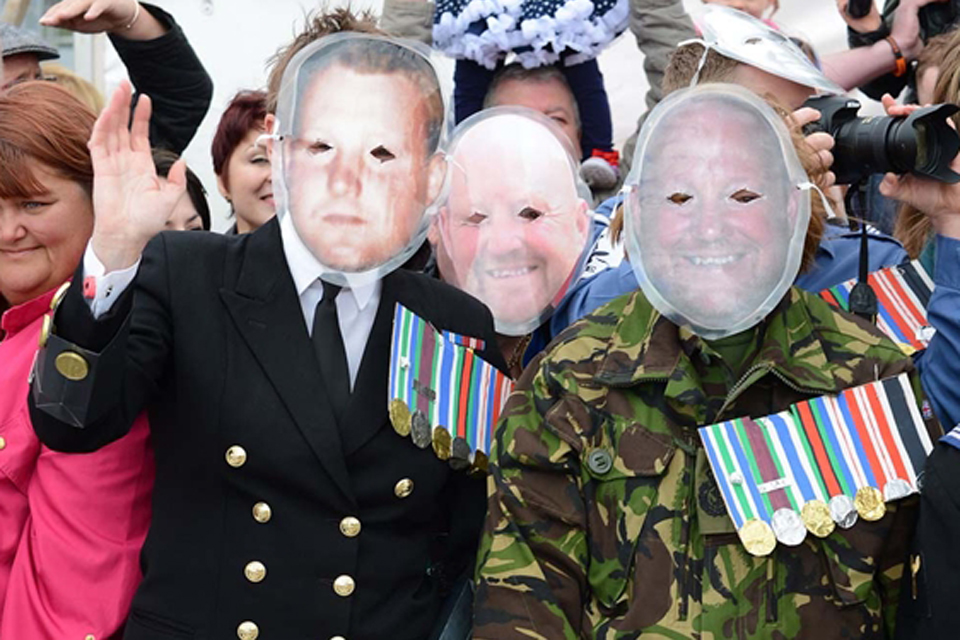 HMS Northumberland's Commanding Officer, Commander Tristram Kirkwood, said:
It's great for the crew to be home. HMS Northumberland has spent the last 7 months providing both assurance to our regional partners and legitimate maritime traffic, and deterrence to those who would commit illegal acts in international waters.

I am extremely proud of my team who have done a tremendous job. They are now looking forward to some well-deserved leave with their families and friends.
HMS Northumberland handed over in the Red Sea to sister ship HMS Kent to maintain the UK's long-standing commitment to maritime security in the region. HMS Northumberland is expected to return to operations in the region in the summer of 2014.
Published 13 May 2013