HMS Northumberland returns from anti-piracy mission
Since deploying in April, the ship has steamed 49,624 nautical miles (91,904km), or approximately twice around the world, on anti-arms and anti…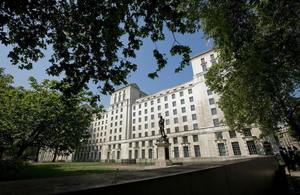 Since deploying in April, the ship has steamed 49,624 nautical miles (91,904km), or approximately twice around the world, on anti-arms and anti-people smuggling, counter-terrorism and piracy deterrence patrols.
HMS Northumberland spent most of her tasking in the Gulfs of Aden and Oman and the Somali Basin in support of Operation CALASH, part of a multinational maritime task force directed from Bahrain.
Piracy attacks have significantly reduced since the ship and her task group have been on-station.
HMS Northumberland's Commanding Officer, Commander Paddy Allen, said:
This has been a hugely challenging deployment, but HMS Northumberland, her embarked Merlin helicopter flight from 829 Naval Air Squadron and her detachment of Royal Marines can be proud of all they have achieved during a prolonged eight-month operational deployment.

It is imperative the maritime arteries which our maritime nation is heavily reliant upon remain free from illicit activity, ensuring the trade of everything from gas and oil from the Middle East to electrical goods from the Far East - something which is all too often taken for granted.
I believe that the latest figures for successful piracy attacks in 2010 clearly indicate that, although we have not solved the problem, we have certainly curtailed it and made a significant difference.
The Type 23 frigate has been conducting counter-piracy operations alongside Royal Fleet Auxiliary vessel Fort Victoria and Devonport-based warship HMS Montrose in the Gulf of Aden and along the 1,500-mile (2,400km) Somali coast and adjacent seas.
No pirates were directly detained by HMS Northumberland, but patrols by the ship and other EU and coalition forces have seen a marked decrease in the number of successful attacks in the Somali Basin.
Although the solution to the piracy problem is judged to be a politically stable Somalia, HMS Northumberland has ensured life has been made extremely difficult for the pirates during her operational presence in the area.
Although primarily an anti-submarine warship, HMS Northumberland is also armed with a variety of weapons systems and is therefore a highly versatile and multi-purpose warship.
Published 13 December 2010