HMS Northumberland prepares for patrol
Sailors and Royal Marines from Royal Naval warship HMS Northumberland have carried out final boarding training in Crete for their upcoming maritime policing patrol in the Indian Ocean.
The Devonport-based frigate made use of NATO ranges and the training complex in Crete after completing escort duties with the UK Response Force Task Group (RFTG) in the central Mediterranean.
Crete is home to the site for checking the calibration of radars, sonars and weapons, allowing NATO ships to pass crucial information to each other accurately ahead of a six-month stint in the Indian Ocean.
The NATO base in Souda Bay is also home to the Maritime Interdiction Operational Training Centre which uses a former Greek Navy training ship to allow visiting ship's companies to hone their board and search skills.
HMS Northumberland is now heading through the Suez Canal and will be relieving her sister ship HMS Sutherland, also Plymouth-based, to take over maritime policing duties in the Indian Ocean and environs, dealing with international piracy, terrorism and smuggling.
This deployment is a very different mission from the opening stages of HMS Northumberland's deployment when she chaperoned the huge French nuclear-powered aircraft carrier Charles de Gaulle during an exercise off Corsica.
The ship rehearsed repulsing a mock attack from very-low-flying French Mirage and Rafale jets and practised close manoeuvres with French destroyers.
After a brief fuelling and storing visit to Toulon with the rest of the British task group, HMS Northumberland sailed for advanced anti-submarine warfare training with an allied submarine.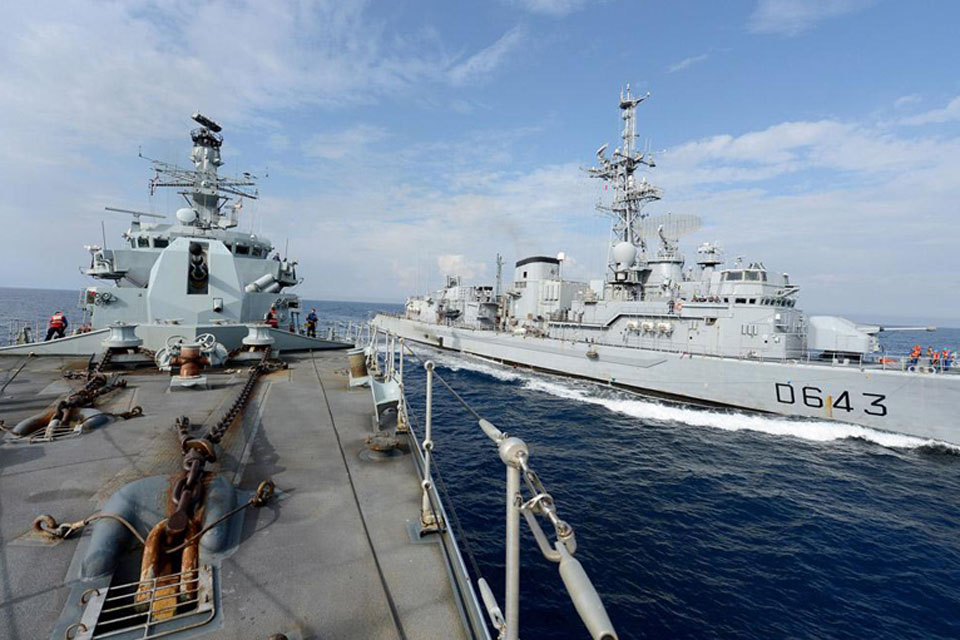 Northumberland's Commanding Officer, Commander Paddy Dowsett, said:
My ship's company enjoyed - and benefited immensely from - our time on Exercise Corsican Lion.
We're particularly grateful for being made to feel so welcome while working with the French carrier strike group. The exercise proved our ability to operate as part of a joint expeditionary force, and helped enhance all aspects of our warfare skills.
He also said that the realistic training against a submarine reinforced the view that a Type 23 frigate such as Northumberland, fitted with Sonar 2087 and a Merlin helicopter, remains the most potent anti-submarine warfare platform of any navy at sea today.
Published 23 November 2012