HMS Montrose home from anti-piracy patrols
HMS Montrose returned home to Plymouth yesterday after a hugely successful five months away as the scourge of Somali pirates in the Indian Ocean and Gulf of Aden.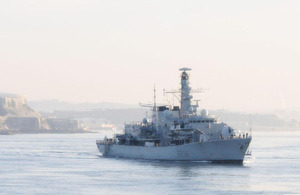 The crew were welcomed to their base-port of HM Naval Base Devonport by a cheering crowd of families and friends after an action-packed deployment. The party atmosphere was completed by families being given gifts and children entertained while accompanied by Her Majesty's Band of the Royal Marines.
The ship's commanding officer, Commander Jonathan Lett, said:
It is fantastic to be back home and wonderful to see so many people here to welcome us back home today.
I am very proud of my ship's company for what they have achieved with tangible results after deterring pirate activity by our presence and by our actions.
The ship's company deserve their Christmas break and so do the families who have given us such great support. It is very heart-warming to see them reunited on the jetty.
During her deployment HMS Montrose took part in Operation Ocean Shield as part of a dedicated multi-national NATO counter-piracy task force comprising HDMS Esbern Snare (Flagship) from Denmark, USS Kauffman and USS Laboon from the USA and ITS Bersagliere from Italy.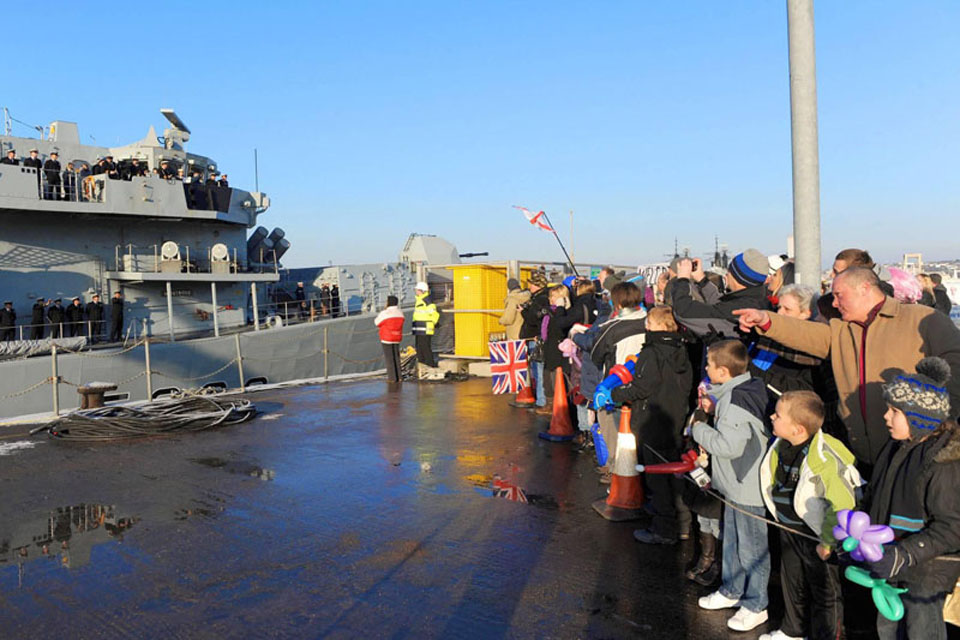 The frigate had notable successes against pirates with the destruction of pirate whalers and the freeing of the crew of the freighter - the MV Beluga Fortune - following a piracy attack.
Lieutenant Commander Duncan Humphery, the ship's marine engineer officer, was greeted yesterday by his overjoyed family - wife Natasha and their children Oliver, three, and Isabel, six. Lt Cdr Humphrey said:
It is brilliant to see my family on the jetty to welcome me back home - nothing is better. This was one of the most successful and enjoyable deployments I have been on in the Navy. Not only did we see and were able to measure the successful results of our counter-piracy action, but also visited some interesting countries when we had the chance of a break.
As well as destroying pirate whalers, HMS Montrose conducted operations to disrupt large merchant vessels which pirates have been using as floating bases or 'mother ships'.
The ship's Lynx helicopter, from Royal Naval Air Station, Yeovilton, Somerset, has flown many hours of sorties along the coast of Somalia conducting intelligence, surveillance and reconnaissance missions of the known pirate camps to gather details for the coalition on piracy camp and vessel movements.
As well as policing the seas and coast, HMS Montrose has promoted and sustained international diplomatic relations. This includes visiting the Seychelles and Tanzania to provide engineering support and training in shipping board-and-search techniques so their defence forces can take a greater role in anti-piracy operations.
It has been a very busy and eventful year and the crew will take a well-earned Christmas holiday. Leave will be followed by the ship going into maintenance in Devonport, before undertaking a major exercise off Scotland and then the crew undergoes training with the Flag Officer Sea Training organisation in Plymouth in preparation for any future tasking.
Commissioned in 1992 HMS Montrose has a crew of 199 officers and ratings and is equipped with the latest weapons, sensors and communications systems, including the vertical-launch Seawolf missile system for close-air-defence, a four-and-a-half inch (114mm) gun, anti-submarine torpedoes, Harpoon anti-ship missiles and a Lynx helicopter.
Published 23 December 2010