HMS Montrose deters pirate attack
Only four days into her latest NATO counter-piracy patrol in the Gulf of Aden, British Royal Navy warship HMS Montrose has disrupted a group of suspected pirates.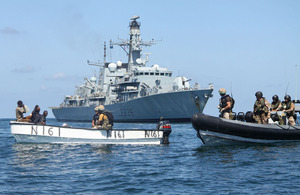 The incident took place on Friday 1 October 2010 when it was identified that they might attack the North Korean merchant vessel, MV Mi Rae, which was transiting the internationally recommended transit corridor in the Gulf of Aden.
HMS Montrose received a distress call from the MV Mi Rae who reported that a gang of men in a nearby boat were acting in a suspicious manner. Fearing that a pirate attack was imminent, the Commanding Officer of HMS Montrose responded immediately by sending the ship's Lynx helicopter to investigate the scene.
When HMS Montrose's helicopter arrived at the scene, the suspected pirates moved away from the MV Mi Rae and the helicopter crew observed the men in the boat throwing objects, including a rocket-propelled grenade launcher, overboard before stopping in the water.
HMS Montrose immediately despatched her team of Royal Marines and Royal Navy sailors to investigate and question the suspected pirates.
The ship's Commanding Officer, Commander Jonathan Lett, said:
HMS Montrose has quickly and effectively deterred piracy in the Gulf of Aden and I am proud of my ship's company.
As part of the NATO counter-piracy task force, HMS Montrose is providing much reassurance to the merchant shipping community.
NATO has contributed to the international counter-piracy effort off the Horn of Africa since December 2008.
The mission has expanded from escorting UN and World Food Programme shipping under Operation ALLIED PROVIDER and protecting merchant traffic in the Gulf of Aden under Operation ALLIED PROTECTOR. In addition to these activities and as part of the latest mission, Operation OCEAN SHIELD, NATO is working with other international bodies to help develop the capacity of countries in the region to tackle piracy on their own.
Published 5 October 2010