HMS Monmouth leads Dunkirk commemoration
HMS Monmouth has acted as an escort to a flotilla of small ships to mark the 70th anniversary of the Battle of Dunkirk.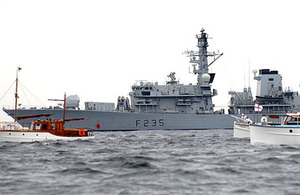 The Devonport-based Type 23 frigate sailed to the northern French port alongside dozens of civilian vessels to commemorate Operation DYNAMO - the daring rescue of more than 300,000 allied troops in 1940.
Monmouth met with the flotilla as they left Ramsgate in Kent on Thursday and led the ships across the English Channel.
Aircraft from the Royal Navy Historic Flight swooped over the group as they made the journey towards France.
Dotted around the 'Little Ships' were 20 Navy ratings from HMS Collingwood who acted as junior escorts for the civilian vessels taking part.
Included in the group of 20 were four Navy divers who train at the Defence Diving School at Horsea Island in Portsmouth. Recently, divers from the school have deployed to Afghanistan to tackle improvised explosive devices laid by the Taliban.
Monmouth and the Little Ships arrived in Dunkirk yesterday afternoon, just a short distance from where the Second World War rescue was carried out.
HMS Raider, a P2000 training vessel, helped to escort the civilian ships through the busy waterway.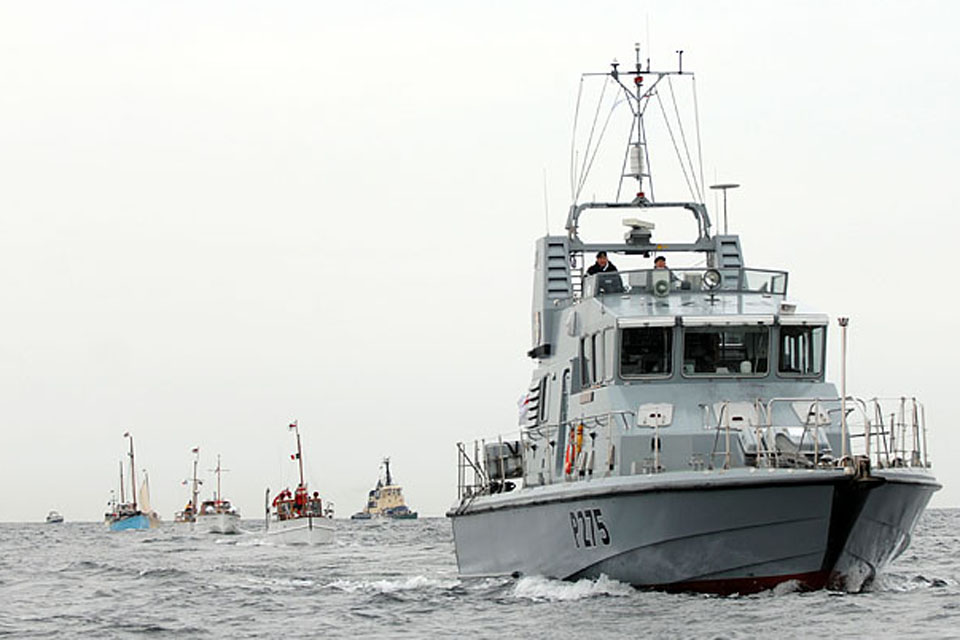 Monmouth's ship's company will take part in a series of commemoration events until Monday 31 May 2010.
The ship's Commanding Officer, Commander Tony Long, said:
Operation DYNAMO was an unprecedented feat of maritime 'can do' which will never be forgotten.
HMS Monmouth is honoured to escort the fleet of Little Ships across the English Channel, hear the accounts of Dunkirk veterans first-hand and experience the 70th anniversary of Operation DYNAMO.
Lieutenant Jon Sutcliff, a training officer at HMS Collingwood (home of the Maritime Warfare School), said:
We are delighted to be taking part in such an historic event.
It gives the trainees the chance to demonstrate to the public the Navy's core values and standards they have been taught.
His Royal Highness Prince Michael of Kent is attending the commemoration throughout the weekend.
HMS Monmouth will be open to members of the public this Saturday and Sunday from 1400hrs until 1700hrs, alongside the French supply ship BCR Marne and the Belgian Auxiliary Unit 'Stern'.
Published 28 May 2010