HMS Monmouth deploys to Gulf region
The Type 23 frigate HMS Monmouth sailed from Devonport Naval Base at the weekend for a six-month deployment to the Gulf on maritime security and counter-piracy operations.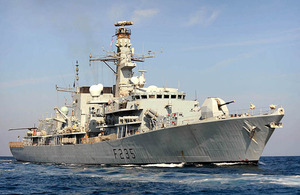 The ship, which has a crew of around 185, will be operating in a wide area covering the Red Sea, Arabian Sea, Indian Ocean and the Gulf.
She will be working closely with coalition forces to counter terrorism, prevent smuggling and to disrupt and deter piracy. She will also participate in a variety of multinational exercises and support UK strategic interests in the region.
The Commanding Officer, Commander Dean Bassett, said:
HMS Monmouth departs the UK fully prepared to carry out our important tasking and my ship's company are keen to make a contribution to enhancing the security and stability in the region.
HMS Monmouth, known in the fleet as 'The Black Duke', has just completed a demanding period of operational sea training under the Devonport-based Flag Officer Sea Training organisation so that her crew are at the highest level of readiness.
Published 31 March 2011