HMS Monmouth crew undergo maritime security training
Sailors from HMS Monmouth are currently training at HMS Raleigh in Cornwall, learning how to carry out one of the most important Royal Navy roles - boarding suspect vessels around the world.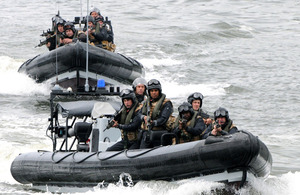 The course, held at the Royal Navy Board and Search School and run by 1 Assault Group Royal Marines (1 AGRM), is designed to teach the sailors how to board, secure and search a suspect vessel either by boat or by helicopter.
The training covers a range of scenarios, testing the sailors' reactions to various situations including crew unrest, discovery of weapons or illegal contraband, and injury to fellow team members.
In addition to classroom lectures, the training includes a series of realistic exercises with the team conducting practise boardings, firstly on the MV Cossack, a land-based purpose-built mock up of a typical merchant ship.
Subsequent boardings take place on the water using the training ship Brecon and various transiting ships in the Plymouth area, where instructors from the School role-play merchant seamen to give the team a real taste of interacting with the crew of a suspect vessel.
Each member of the team is required to complete a series of military tests during the course to prove their physical fitness and their weapon handling skills. They also need to demonstrate that they can move quickly and aggressively around a ship wearing the correct weapons and equipment.
Major Matt Churchward, from 1 AGRM, said:
Board and search is one of the Royal Navy's key capabilities in maintaining the security of the world's shipping lanes.
Patrols by warships, mainly operating in the Caribbean and the Gulf, are aimed at stopping the illegal maritime trade of narcotics and piracy, which could feed terrorism and insurgency.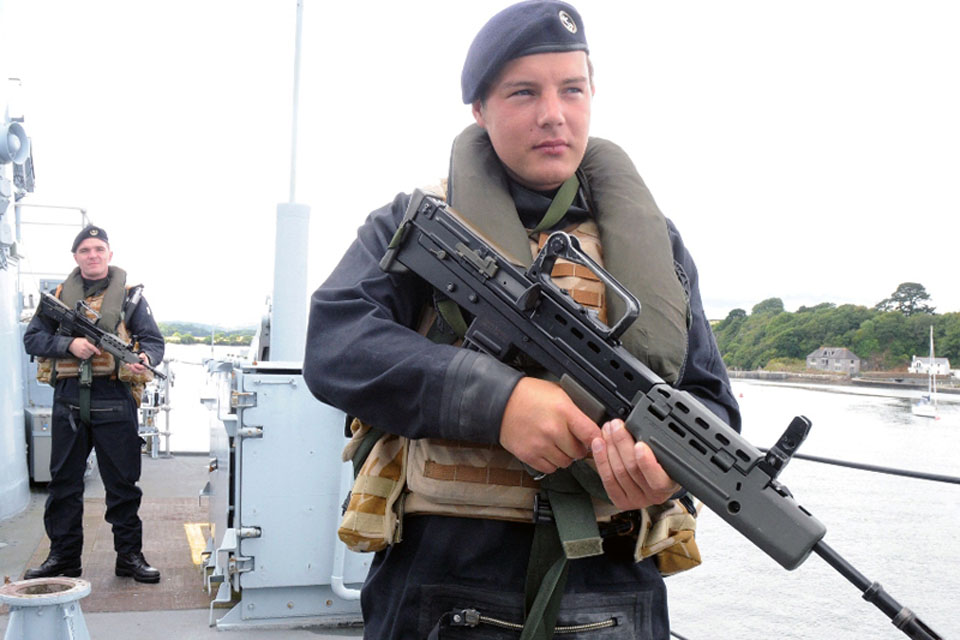 The Royal Navy has become very successful in this type of operation. Last month HMS Manchester helped police in the Caribbean snare a drugs haul that could have been worth £1.5m on the UK market.
We are constantly updating our training to ensure that Royal Navy teams receive the best preparation possible to undertake this vital role.
Type 23 frigate HMS Monmouth will deploy on operations early next year, and whether it is to the North Atlantic, Caribbean or the Middle East, her crew will be ready for anything following this training.
The Commanding Officer of HMS Monmouth, Commander Tony Long, said:
Boarding operations are a vital part of what we do. To be able to rapidly deploy Royal Marines, or my sailors, by armed boat, gives me versatility beyond the physical deterrence effect of a warship such as HMS Monmouth.
It allows me to provide security at sea wherever good order needs to be restored. During our six-month deployment in [the Gulf], we used our boarding teams over one hundred times to interact with the dhows and merchant vessels and provide reassurance to them.
The training we do pays dividends, it is key to our preparations for deployment next year.
HMS Monmouth returned to Plymouth in April 2010 after a six-month patrol to the Middle East. While in the Gulf, the ship carried out security operations to safeguard regional stability and protect mariners from arms and people smugglers, and pirates.
The frigate's presence, her helicopter, and Royal Marine and Royal Navy boarding team combined to reassure shipping and gather intelligence.
HMS Monmouth also carried out security operations in and around the Gulf of Aden, an area of 2.4 million square miles (6.2 million square kilometres), which has become notorious for piracy, terrorist activity, drug trafficking and people smuggling.
Published 26 July 2010