HMS Liverpool's long and eventful career draws to a close
HMS Liverpool made her final entry into her Portsmouth home yesterday as an eventful 30-year career draws to a close.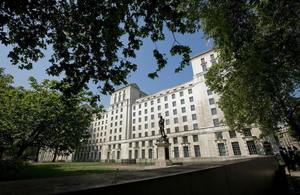 The ageing Type 42 destroyer made her final entry into Portsmouth on Monday 26 March ahead of her official decommissioning ceremony on Friday. The destroyer has put in more than three decades of valuable service for the Royal Navy and has steamed more than 921,700 nautical miles (1,700,000 kilometres) protecting the nation's interests across the globe.
She is being decommissioned as the Type 42s make way for the hi-tech replacement Type 45 destroyers.
Built by Cammell Laird at Birkenhead, HMS Liverpool was launched in 1980. After an accelerated trials period she sailed for the South Atlantic in June 1982 and, although she did not see active service in the Falklands conflict, she remained on station for the next six months.
In 2003, she sailed from the UK as part of a task group intending to take part in exercises in the Far East but instead the group was diverted to the Gulf to take part in the Iraq War. Throughout the conflict Liverpool acted as an escort to the aircraft carrier HMS Ark Royal.
Liverpool was again involved in a major operation last year, playing a significant role in the blockade off Libya during the country's civil war.
While engaged in surveillance operations during the mission, Liverpool came under fire from a shore battery, making her the first Royal Navy warship to be deliberately targeted since the Falklands conflict. During seven months off Libya, Liverpool fired more than 200 rounds from her main gun.
Since returning from Libya in November, Liverpool and her 260-strong ship's company have remained at the forefront of UK defence. Last month she was activated to intercept a Russian naval task group - which had passed through the Strait of Gibraltar - to see them safely through UK waters into the North Sea.
She then paid an emotional final visit to her namesake city and makes her last entry into Portsmouth having just taken part in cold weather exercises close to the Arctic Circle.
Her Commanding Officer, Commander Colin Williams, said:
In the 18 months since I assumed command, HMS Liverpool and her ship's company have achieved some of the highest accolades a Royal Navy warship could hope for.
We have grown and faced challenges together, from operations off Libya to exercises in Norway, including sea training, high seas firings and escorting a Russian task group. We have achieved a great deal in a short time, and continued the long-standing, hardworking tradition of the Type 42 destroyer.
Every ship has a life span, and it is with great pride that we make way for the new Type 45 destroyers, and the enhanced capability they bring to today's Royal Navy. HMS Liverpool has served her country and ship's companies well to the end, and all should be rightly proud to have served in her. We brought her home as a ship at the top of her game, a fitting farewell to 30 years of dedicated service.
In keeping with Royal Navy tradition, HMS Liverpool flew a decommissioning pennant for her final return. The ship will be formally decommissioned at a ceremony in Portsmouth on 30 March 2012.
Published 27 March 2012