HMS Liverpool leaves home for final time
Crowds gathered on the Wirral and in the heart of Liverpool yesterday to bid a fond and final farewell to Type 42 destroyer HMS Liverpool.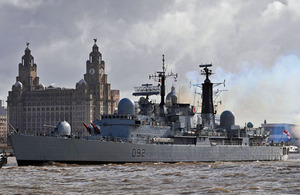 HMS Liverpool sailed into the Mersey last week for a six-day visit, berthing alongside at the Cruise Liner Terminal. After 30 years in service she is now due to be decommissioned and this was the ship's last visit to Liverpool, close to where she was built.
During the ship's visit to Liverpool her crew hosted a reception for various guests as well as inviting some 20 groups, including schools, colleges and other organisations, on board.
On Friday the crew took to the streets of Liverpool to exercise their Freedom of the City for the last time. The parade was attended by the Lord-Lieutenant of Merseyside, Dame Lorna Muirhead, and the Royal Navy's Deputy Commander-in-Chief Fleet, Vice Admiral Philip Jones.
HMS Liverpool was awarded this honour in 1982 and has exercised this ancient tradition on numerous occasions during her close affiliation with the city.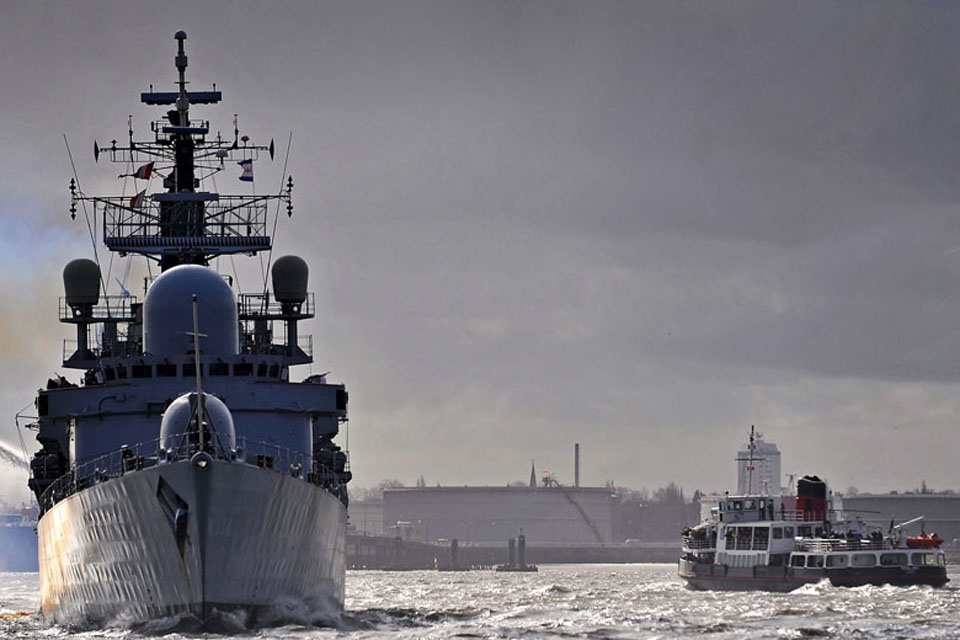 And on Saturday and Sunday the ship opened her gangway to the public, giving thousands of visitors the chance to explore the ship, get up close and personal with some of her equipment, and speak to the brave men and women who have sailed her and fought from her decks.
Most recently, off Libya, HMS Liverpool became the first Royal Navy ship to be fired upon for 30 years during her seven-month deployment to the area.
HMS Liverpool made her last journey down the Mersey yesterday morning, leaving the Cruise Liner Terminal at 1100hrs and delivering a gun salute at the Cammell Laird shipyard shortly afterwards. She then sailed past the Royal Liver Building and delivered a second gun salute to the city with which she has been so proudly intertwined over the past 30 years.
Of the ship's final visit to Merseyside, HMS Liverpool's Commanding Officer, Commander Colin Williams, said:
This has been an uplifting and, at times, emotional visit to the ship's spiritual home. We have been thoroughly overwhelmed by the kindness and interest of Merseysiders and humbled by the support shown to crew and ship alike.
We could not have wished for a better farewell celebration for HMS Liverpool's service within the fleet.
She has an exceptional Merseyside pedigree and this visit is one which will live long in my memory and that of my crew. We are extremely proud to have called Liverpool our home.
HMS Liverpool was laid down at Cammell Laird's in 1978 and launched from the famous Birkenhead shipyard in 1980.
She entered service in 1982, a mere two weeks after the Falklands Conflict came to an end, and she has sailed the world for the Royal Navy in peacetime and conflict ever since.
Published 6 March 2012