HMS Liverpool fires on Gaddafi forces
The Commanding Officer of Royal Navy destroyer HMS Liverpool has praised his 'cool and professional' crew after they silenced a Libyan shore battery this week which had opened fire on the ship and its helicopter.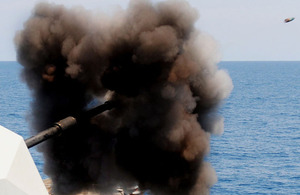 Whilst engaged on surveillance operations off the Libyan coast, the Type 42 destroyer was tasked, along with two other NATO warships, to intercept small, high-speed inflatable craft spotted approaching the port of Misurata; similar boats have previously been used by the regime to attempt to mine the harbour.
A Libyan artillery battery on the coast fired an inaccurate salvo of rockets at HMS Liverpool whereupon she immediately returned fire with her 4.5-inch (11.5cm) gun, silencing the shore-based aggressors. As a result of the prompt action by HMS Liverpool and her fellow NATO vessels, Colonel Gaddafi's boats were forced to abandon their operation.
Commander Colin Williams said his ship's company had used their training perfectly in the incident:
It was very humbling to see my ship's company working so calmly and quietly. There was no jingoism, no shouting, the atmosphere was cool as people went about their jobs.
HMS Liverpool was able to stay farther offshore than the other NATO vessels because her main 4.5-inch gun has a longer range.
Commander Williams described how the events had unfolded:
We had a couple of contacts moving down the coast. The other two ships went in to investigate, and we sent up our helicopter in support," he said. "Then [the helicopter and NATO warships] started getting fired on by the [Libyan] vessels and from the shore, and it all got dramatic from there.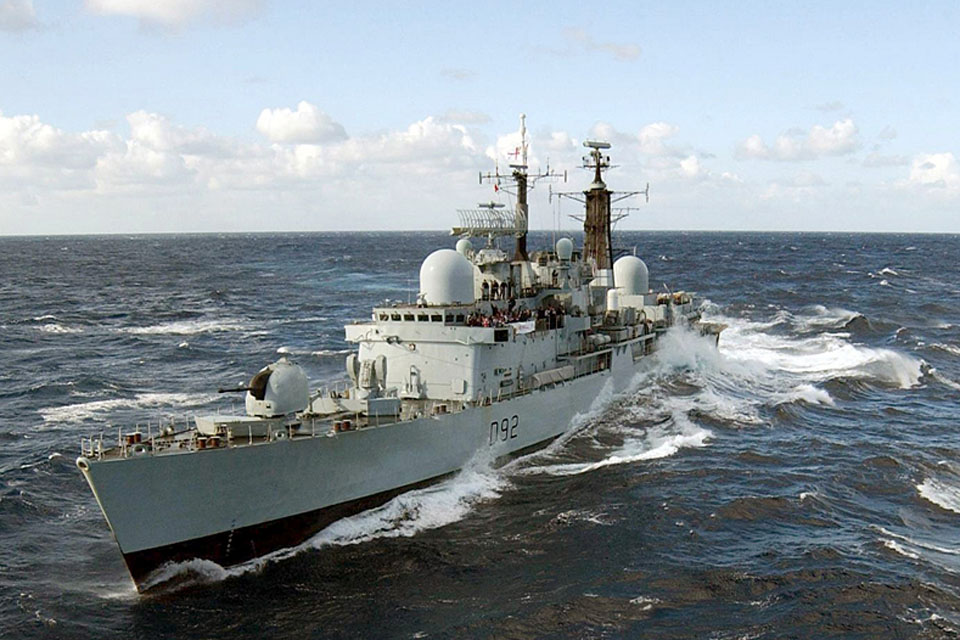 As her helicopter avoided gunfire, HMS Liverpool fired an opening salvo and manoeuvred into position to take on the shore battery:
The arms fire started coming out to sea from the shore, and we could see that it was medium to heavy calibre," said Commander Williams. "Once we were under fire we knew we had to defend ourselves, so we targeted the 4.5-inch gun and fired the round at the shore target.

It was sufficient to allow us to move away from danger without any casualties. It took us about 20 or 30 minutes to bring it to an end.
HMS Liverpool was, last night, Thursday 12 May, back on patrol off Misurata, helping to prevent pro-Gaddafi forces threatening the area around the Libyan port:
We're back at work, a little bit more experienced than before, but still determined to do a good job," said Commander Williams.
Published 13 May 2011