HMS Liverpool fires on Gaddafi boats
HMS Liverpool has been in action off the coast of Libya this weekend where she intercepted three rigid-hulled inflatable boats (RHIBs) suspected of belonging to the Colonel Gaddafi regime.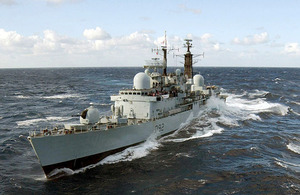 The Type 42 destroyer was on patrol off Misurata on Friday afternoon when the three RHIBs were detected in the vicinity of Zlitan by a NATO reconnaissance aircraft.
The RHIBs were of the type previously used by the regime for attempted raids and minelaying in the area to frustrate humanitarian shipments reaching Misurata port.
Liverpool intercepted the boats, and opened fire with her 4.5-inch (114mm) gun. This had the desired effect; all three boats immediately abandoned their mission, and whilst two raced back to Zlitan harbour, the crew of the third ran ashore, beached their craft, and fled on foot.
Liverpool duly destroyed the boat abandoned on the beach with further 4.5-inch gun fire.
Also during the afternoon, a NATO surveillance asset identified an armed pick-up truck being used by Colonel Gaddafi's troops near Mizdah in the Jebel Nafusa (Western Mountains).
A Royal Air Force armed reconnaissance patrol over the Jebel Nafusa was able to destroy the vehicle using a Paveway laser-guided bomb.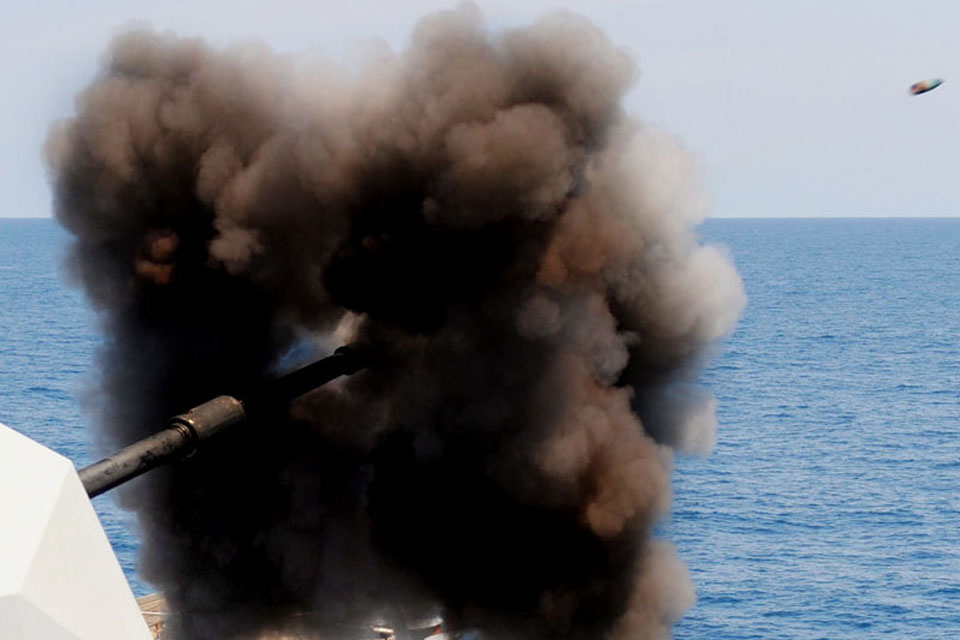 And, yesterday, Royal Air Force aircraft helped save the lives of Libyan civilians both by neutralising threats from Colonel Gaddafi's forces and co-ordinating the provision of assistance to a group of refugees at sea.
Major General Nick Pope, the Chief of the Defence Staff's Strategic Communications Officer, said:
NATO air patrols were active across Libya [yesterday] and, in the course of these, RAF jets destroyed a regime armed vehicle identified near Brega in the east, and a multi-barrelled rocket launcher at Zlitan in the west.
During the afternoon, an RAF E-3D Sentry was the duty Airborne Warning and Control System aircraft, providing airborne co-ordination of NATO operations, when a vessel was reported to be in distress some 75 miles [121km] off the Libyan coast.
The Sentry crew were able to divert an allied maritime reconnaissance aircraft and a frigate to investigate.
The vessel, listing with engine difficulties, proved to have some 60 refugees on board, believed to be fleeing from the regime-held town of Az Zawiyah, including a number of children and pregnant women.
The NATO frigate is alongside the vessel, monitoring closely the safety of the vessel and ready to provide assistance as necessary.
Since the start of military operations on 19 March 2011 to enforce UN Security Council Resolution 1973, Royal Navy, Royal Air Force and Army Air Corps precision strikes have damaged or destroyed some 590 regime targets that were posing a threat to the people of Libya, ranging from main battle tanks and heavy artillery, to command bunkers and secret police facilities.
Published 11 July 2011