HMS Liverpool decommissioned
After 30 years of service, Type 42 HMS Liverpool ended her Royal Navy career on Friday 30 March 2012 at Portsmouth Naval Base.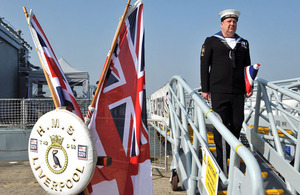 Some 200 relatives of the crew, plus friends, former members of the ship's company, the Lord Mayor of Liverpool Councillor Frank Prendergast, Second Sea Lord Vice Admiral Charles Montgomery and a sizeable number of the 19 officers who have commanded the ship since 1981 gathered at HMS Liverpool's decommissioning ceremony, at South Railway Jetty, to show their support.
They were treated to music from the Band of HM Royal Marines School of Music, impromptu flypasts from Coastguard, RAF Search and Rescue and Fleet Air Arm helicopters, and even a blast from the fire hose of a tug which was working with the Gosport ferry in the harbour.
The ship's chaplain, the Reverend Charles Bruzon, led guests and the 240-strong ship's company through the last formal act of the destroyer's career (she made her final entry to Portsmouth, flying a long decommissioning pennant, on Monday).
Despite being in service for three decades, it was in the final year of her life that Liverpool truly made her mark; her seven-month mission in support of the free peoples of Libya last year earned her international acclaim.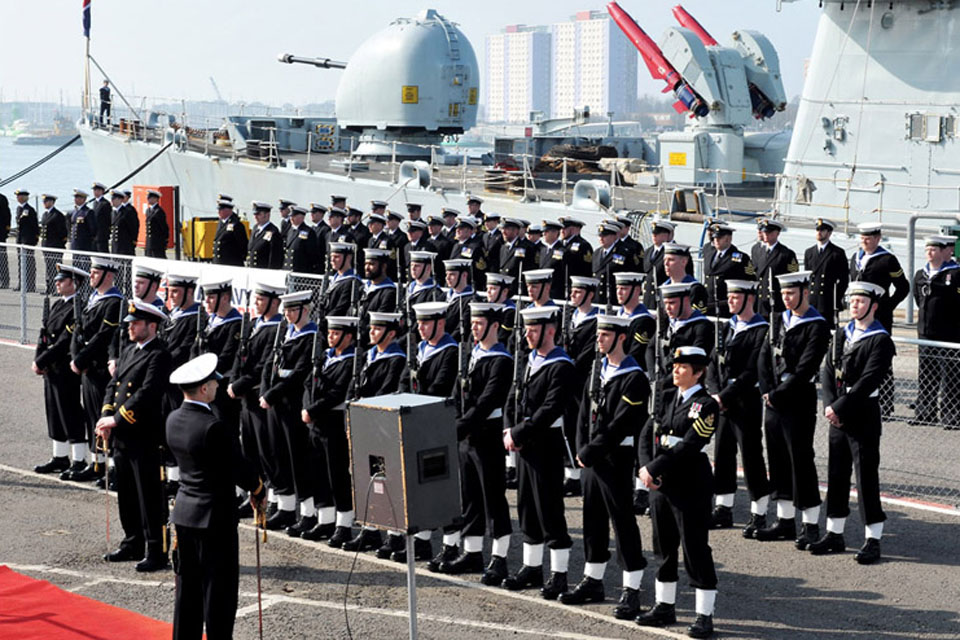 Rev Bruzon assured those gathered on the jetty:
What this last ship's company achieved off Libya will endure and live on.
He said Liverpool's paying off was "almost the end of a human life", adding:
All of us will treasure the memories of good times, camaraderie and accomplishments. Hold you heads high and be filled with pride.
It fell to 39-year-old Able Seaman Anthony Clarke to lower the White Ensign for the final time, fold it, then present it to his Commanding Officer Commander Colin Williams.
Liverpool is the junior rating's last ship, and Able Seaman Clarke said:
To haul down the Ensign was a great honour, but also hugely poignant.
Such feelings were echoed by Cdr Williams, who conceded that his "lower lip was trembling" as his flag was lowered:
This is a sad day - not something you would want to happen, but every ship has a life span and HMS Liverpool has served her country and ship's companies well to the end, and all should be rightly proud to have served in her.
Liverpool is the last of the 'classic' 42s and is ready in all respects to hand the baton of air defence on to the new, more capable Type 45 destroyers.
The camaraderie and esprit de corps that has been generated will live on and be the enduring legacy.
HMS Liverpool remains the embodiment of all that a destroyer can be and has upheld the finest traditions, standards and fighting prowess of the Royal Navy.
Published 2 April 2012