HMS Lancaster returns to sea after major refit
HMS Lancaster has returned to sea for the first time in 16 months following a major upgrade.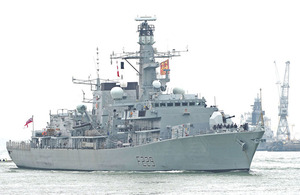 The Type 23 frigate, named after the Duke of Lancaster - an honorary title of Her Majesty The Queen, has benefited from a £22m refit including superstructure changes, refurbishment of her engines and new weapon systems.
The upgrade was carried out in Portsmouth by BAE Systems and involved the fitting of four new diesel generators, all four turbine engines being overhauled, anti-fouling paint being applied to the keel, and the addition of a transom flap at the stern which makes the ship far more fuel-efficient.
Upgrades to her weapon systems and sensors have included new fully automatic 30mm close range guns on either side of the ship and an updated Sea Wolf missile system.
Lancaster's Commanding Officer, Commander Steve Moorhouse, said:
I feel extremely privileged to command Lancaster as we emerge from an extended refit period with state-of-the-art weapon technologies, powerful engines and a ship's company that are well-trained and highly-motivated.
I am extremely grateful to BAE Systems for their hard work in returning the ship to me ready for our return to sea and I look forward to putting Lancaster to the test during our forthcoming period of sea trials.
HMS Lancaster also boasted a new flag which flew from her mast when she put to sea again. The flag of the Duchy of Lancaster was proudly displayed having been donated by Paul Clarke, the Chief Executive Officer of the Duchy, and his wife Vanessa.
Published 3 February 2012