HMS Iron Duke celebrates anniversary of Kuwait's independence
The Royal Navy's HMS Iron Duke has visited Kuwait to help celebrate the 50th anniversary of the country's independence in 1961 and the 20th anniversary of her liberation from Iraq in 1991.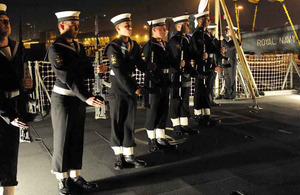 The Portsmouth-based Type 23 frigate, which hosted an official reception for 200 guests during her visit to Kuwait, forms part of a wider involvement by British Armed Forces to mark the achievements of the 1991 campaign.
Many leading figures from the operation attended, including former British Prime Minister Sir John Major. The ship also welcomed officers from the Kuwaiti Armed Forces and other coalition partners.
While in Kuwait, Commander Nick Cooke-Priest, HMS Iron Duke's Commanding Officer, attended the opening of the UK Wall at the Kuwait House of National Works, another element of the 50/20 commemorations. Local school children were given tours of the ship, and members of Iron Duke's ship's company enjoyed exploring Kuwait and the surrounding area, many for the first time.
Commander Cooke-Priest said:
The international effort to liberate Kuwait took place shortly after I joined the Royal Navy and, like many, I vividly remember that operation. It has been a great honour and privilege to bring HMS Iron Duke to Kuwait and help commemorate both the country's independence 50 years ago and the liberation of 1991.
While based in the Gulf HMS Iron Duke is taking part in Combined Maritime Forces operations.
Her work includes counter-terrorism, counter-piracy and human trafficking prevention, exercises and operations with regional naval forces, and wider regional engagement, such as port visits, on behalf of the UK Government.
Published 8 March 2011