HMS Illustrious trains in tough Arctic conditions
Royal Navy helicopter carrier HMS Illustrious is in the midst of Exercise Cold Response, based in the Arctic.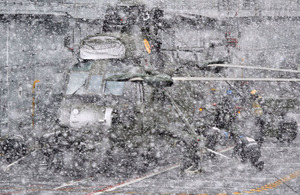 During the NATO exercise Illustrious is the command ship for Major General Ed Davis, Commandant General Royal Marines, who, with his Commander Amphibious Forces staff, is directing the movements of allied warships.
In all, about 16,000 sailors, soldiers and airmen from 15 nations, hosted by Norway, are taking part in Cold Response which tests the ability of NATO's forces to fight in the harshest environment imaginable.
The ten-day war game has gathered an international task force in the waters of the Arctic.
The situation in the fictional 'Nerthus' region (actually northern Norway) is deteriorating, with 'Gardarland' refusing to withdraw its troops from neighbouring 'Borgland', and the multinational naval force on high alert, ready to intervene if needed.
During Cold Response HMS Illustrious is home to eight helicopters - four Sea Kings and four Lynx, all from Royal Naval Air Station Yeovilton.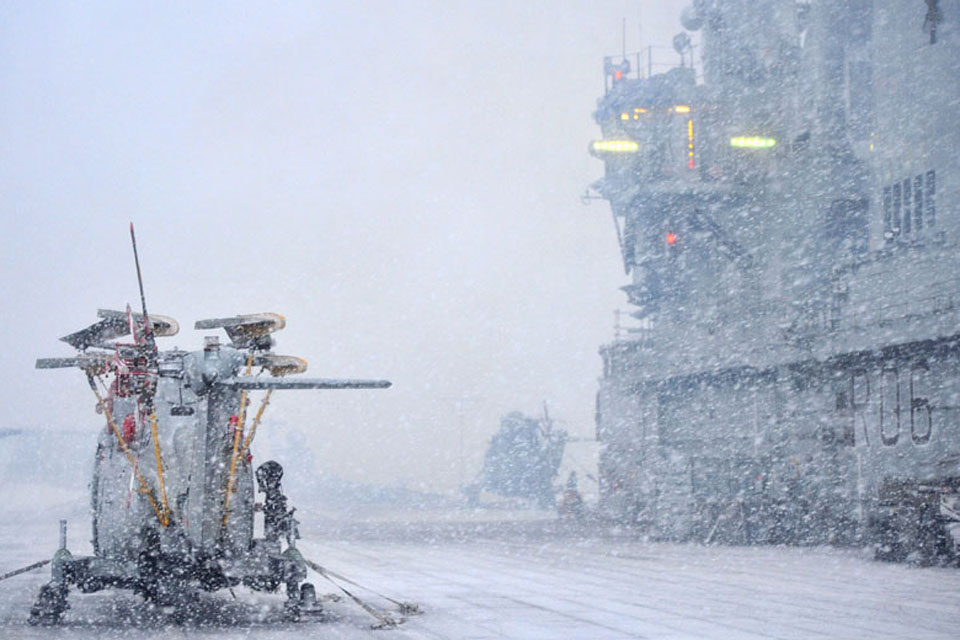 The 900-plus crew of HMS Illustrious, including Royal Marines and personnel from the Commando Helicopter Force, are working around the clock.
Staff working on the flight deck, day and night, are facing blizzards and strong winds that can drop the temperature to minus 40 degrees Celsius as they marshal and refuel the essential helicopters.
At one point a blizzard brought flying operations to a standstill.
Royal Marines of Kilo Company, 42 Commando, had been ready to board Commando Helicopter Force Lynx and Sea Kings when the operation was called off.
Deck crews and aircraft maintainers coped with high winds and blizzard conditions to secure the aircraft to the deck or move them inside to a hangar.
Captain Martin Connell, the ship's Commanding Officer, said:
HMS Illustrious and her embarked helicopter squadrons are certainly facing some tough arctic conditions.
But we have prepared for this, both in terms of training and with all our equipment, and I am very pleased with the way the crew have approached the exercise throughout the ship.
He added:
In particular the positive attitude and cheery enthusiasm of those operating on the flight deck have been vital and have allowed Illustrious to conduct helicopter operations round the clock in support of the multinational task force.
A few miles away, the Navy's flagship HMS Bulwark has been carrying out amphibious exercises with her landing craft.
The assault ship has been training at Red Beach near Harstad with the Korps Mariniers - the Dutch counterparts of the Royal Marines and long-standing partners of the Green Berets.
Commodore Paddy McAlpine, Commander UK Task Group, and his staff are directing amphibious operations involving Bulwark and her subordinate ships and units.
Landing craft from Bulwark's permanent Royal Marines unit, 4 Assault Group, trained with Netherland's assault ship HNLMS Rotterdam, which is a cross between Bulwark and the Royal Fleet Auxiliary's Bay Class landing support ships.
Published 14 March 2012