HMS Gloucester returns home for last time
Type 42 destroyer HMS Gloucester returned to her Portsmouth home for the last time yesterday prior to decommissioning following 29 years of service in the Royal Navy.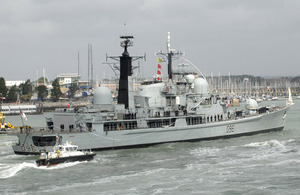 The veteran Type 42 destroyer marked her final entry into HM Naval Base Portsmouth on Monday 23 May in traditional fashion by flying a pennant in preparation for her decommissioning next month.
HMS Gloucester has clocked up 787,928 miles (1,268,047km) during service across the globe, and holds the record for the first successful engagement of a missile by another missile in combat at sea.
Built by Vosper Thorneycroft at Woolston, Southampton, at her launch in 1982 HMS Gloucester was the longest vessel built at the shipyard since the Second World War.
Nicknamed 'The Fighting G', the ship's most notable action came in January 1991 when she escorted American battleship USS Missouri close to the Kuwaiti coast during the Gulf War. As the Missouri came under attack by an Iraqi Seersucker missile, HMS Gloucester fired a salvo of Sea Darts to knock it from the sky in what proved to be the first validated, successful missile-versus-missile strike of its kind.
Gloucester's Lynx helicopter was also in the thick of action during the war, attacking seven Iraqi naval ships with its Sea Skua missiles.
The ship saw action of a different kind during the Israel-Lebanon conflict of 2006 as the first Royal Navy vessel to evacuate British nationals from Beirut, making three round trips to carry Britons to safety in Cyprus.
HMS Gloucester made the headlines again in 2010 during her final overseas deployment after intercepting the yacht Tortuga in the mid-Atlantic, which was smuggling cocaine, during the ship's passage to the Falkland Islands.
Her Commanding Officer, Commander David George, said:
I cannot express how proud I am of the ship. It was a very emotional final entry for the very best of ships, but she is 29 years old, and with more than 750,000 miles [1.2m kilometres] under her belt. There are more capable Type 45 destroyers now taking the stage, and Gloucester's time has come to bow out with dignity.
HMS Gloucester's final deployment was off the south west coast of the UK, where she joined fellow Royal Navy ships to take part in Exercise Saxon Warrior alongside vessels from France, Spain and the USA.
Published 24 May 2011