HMS Enterprise home from 20-month deployment
After a mammoth 20-month deployment, Royal Naval survey ship HMS Enterprise today returns to her home port of Her Majesty's Naval Base Devonport in Plymouth.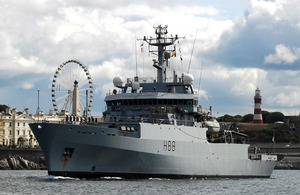 The oceanographic and hydrographic survey ship has sailed over 50,000 miles (80,500km) during her deployment, with her most recent operations over the last few months involving surveying an area the size of Dartmoor National Park.
Her deployment has also included West Africa, the Gulf, Gibraltar, Oman and the southern Red Sea.
HMS Enterprise is one of two Echo Class ships in the Royal Navy and is designed to spend most of her time deployed on operations.
It will therefore be a rare moment for HMS Enterprise's crew when the ship ties up at her base port to the awaiting families and well-wishers.
Commander Jon Holmes, the ship's Commanding Officer, said:
It is always special for a ship to return to her home base after a long period away. Our relief manning system allows us to operate in this way, but also allows the work to continue. After a short stay and change of half of the crew, we will be back to sea early next week.
HMS Enterprise's work enhances defence survey knowledge and builds on existing relations in her areas of operation. Of particular importance is the work east of Suez which remains a complex and potentially unstable area.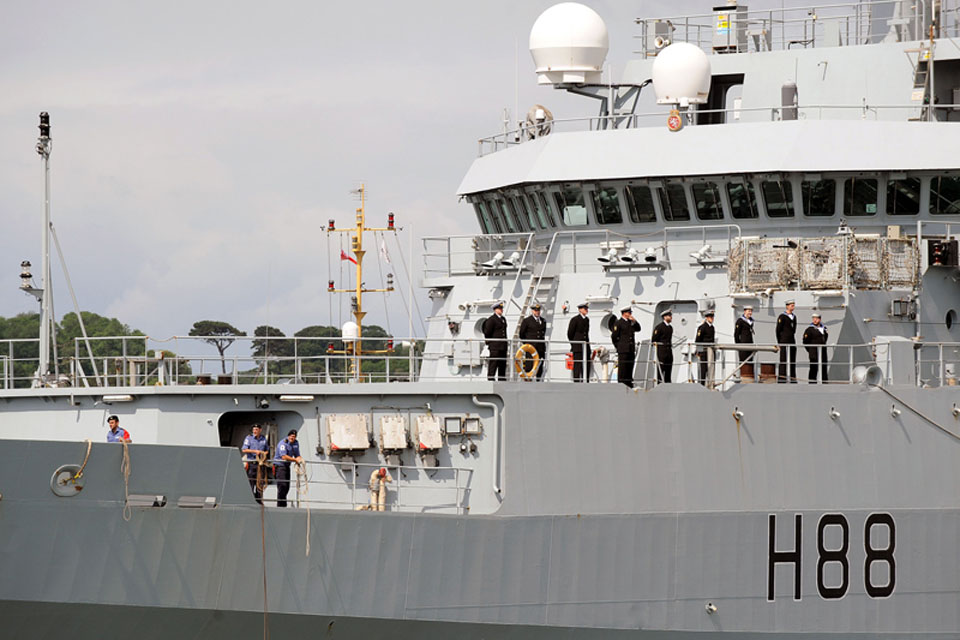 HMS Enterprise was launched in 2003 and operates a watch rotation manning regime, allowing her crew of 76 to regularly rotate, with 50 personnel onboard at any one time.
This class of warship is designed to provide the Royal Navy with modern hydrographic and oceanographic capabilities. This is provided by multibeam echo sounders and an array of towed sensors for military data gathering.
Operating worldwide for HMS Enterprise and any warship is challenging; skills need to be maintained, and a continual process of training keeps the ship at an alert state. The nature of the job means that the ship's sensors are busy at the same time as this training, collecting a wide range of environmental data.
During her deployment a variety of charity events took place to raise money for the Primrose Cancer Ward at Derriford Hospital in Plymouth - HMS Enterprise's nominated charity.
HMS Enterprise has a busy period ahead as she is due to go through a period of maintenance and system updates, followed by operational sea training, before deploying at the end of the year.
Published 10 June 2011