HMS Edinburgh returns to fleet after upgrade
A ceremony marking HMS Edinburgh's return to the fleet after a £17.5m upgrade took place at Portsmouth Naval Base last week.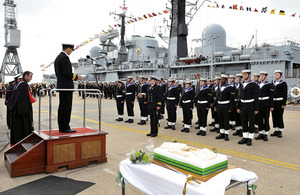 The Portsmouth-based Type 42 destroyer - which was out of action for 18 months for the refit - was 'rechristened' in a colourful rededication ceremony in front of hundreds of guests.
During the 30-minute service - conducted by Chaplain of the Fleet The Reverend Scott Brown - the 225 members of the ship's company paraded in front of their new-look ship on Victory Jetty. A ceremonial guard of 24 sailors was inspected by the guest of honour, Major General Garry Robison, the Navy's Chief of Staff (Capability).
Guests included families of the ship's company, former commanding officers and representatives of HMS Edinburgh's affiliate organisations. The ceremony was rounded off in traditional fashion with the cutting of a rededication cake by the youngest members of the ship's company.
The honour fell to 17-year-olds Jonathan Thorne and Katie Hickman, both Able Seamen, who share the same birthday. They were assisted by Lieutenant Commander Gillian Russell - wife of Commanding Officer Commander Paul Russell - who serves at Navy Command Headquarters in Portsmouth.
HMS Edinburgh completed her refit with BAE Systems in Portsmouth last month - her propulsion machinery, auxiliary and weapons systems, sensors and accommodation have all been updated.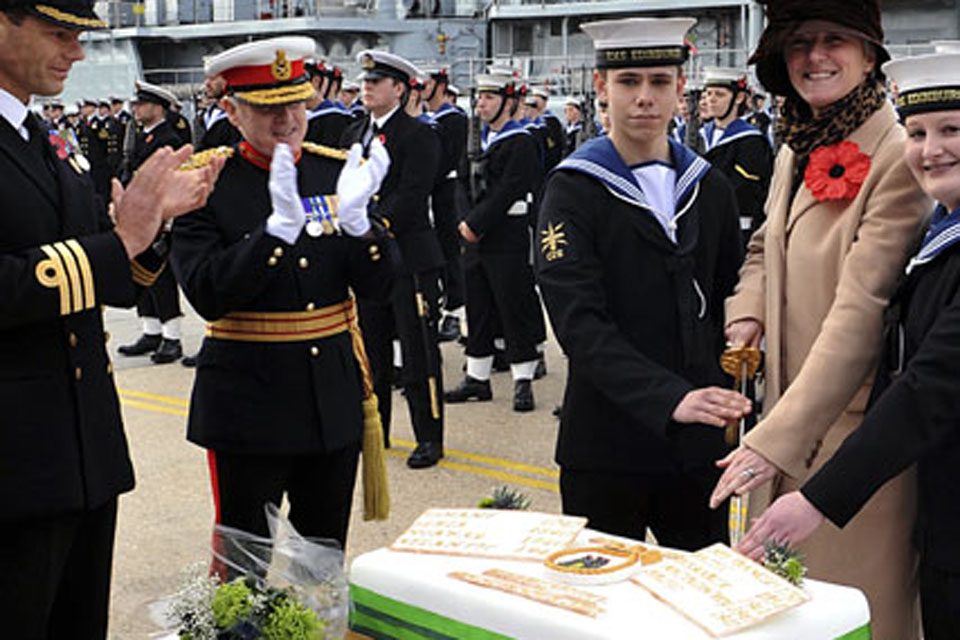 Commander Russell said:
Having completed a comprehensive refit and sea trials period, HMS Edinburgh is ready, once again, to conduct operations as part of the fleet. We have achieved this significant milestone with the perseverance, hard work and sheer determination of the ship's company, BAE Systems and Superintendent Fleet Maintenance in Portsmouth.
I was particularly delighted to share this day with so many families. The Navy places tremendous demands on us all and the support of our families and friends has played a major part in helping HMS Edinburgh get back to sea in such good order.
"We are very proud of our ship and what we have achieved so far, and this is just the beginning of our adventures. We are now looking forward to the demands of operational sea training."
Since the refit the ship has completed a comprehensive trials programme to ensure the upgrades are operating effectively and that she is ready for training and operations.
The next step is to ensure the crew is also up to the challenge of operational duties by completing an intensive eight-week period of operational sea training. Next spring the ship will be available for deployment anywhere in the world.
Rededications are traditional religious services which involve customs dating back to the reign of King Henry VIII.
Published 9 November 2010