HMS Edinburgh embarks on final voyage
Type 42 destroyer HMS Edinburgh left Portsmouth today, Monday 24 September, on her final deployment, to conduct routine operations across the Atlantic.
It marks a historic milestone for both the ship and the Royal Navy as it will be the last time a Type 42 destroyer deploys on operations as they make way for the new-generation Type 45 destroyers.
Once sister ship HMS York decommissions on 27 September 2012, HMS Edinburgh will be the final ship of her class operating in the Royal Navy, marking the end of 30 years of service for the Type 42.
HMS Edinburgh is scheduled to undertake a range of tasks across the length of the Atlantic in support of British interests worldwide. Her tasking will see her supporting counter-narcotics efforts in the West African region as well as providing reassurance to UK territories and dependencies worldwide.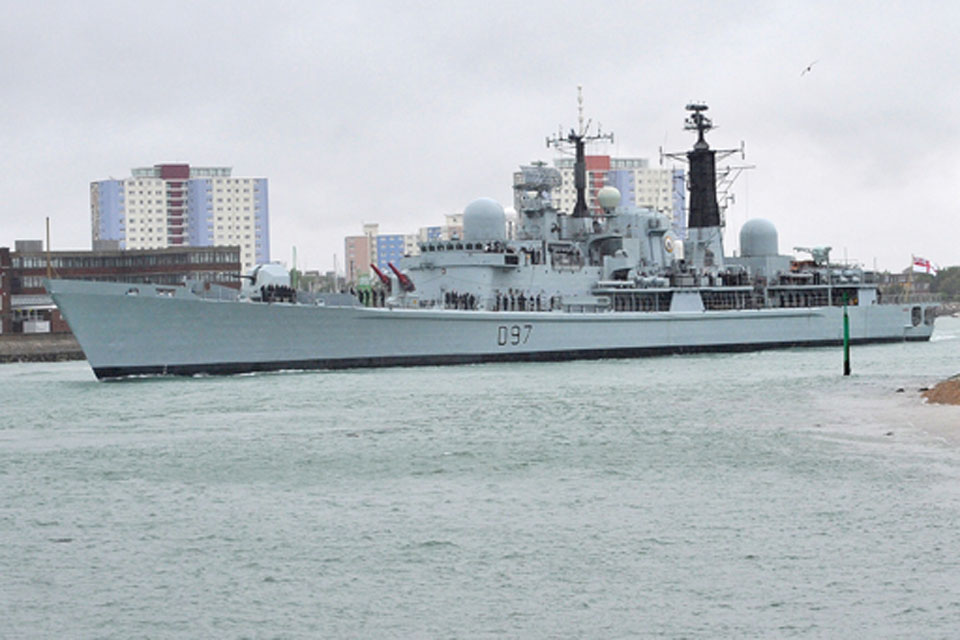 Since returning from her previous deployment in December last year, HMS Edinburgh has undertaken an intensive period of training and maintenance to prepare her for the tasks ahead. Her Commanding Officer, Commander Nick Borbone, said:
I am extremely proud of the way my ship's company has responded to the many challenges we have faced during our preparations for this operational deployment.
HMS Edinburgh might be the last of the class but she remains a capable ship with a highly-trained and motivated ship's company that is determined to preserve the fine tradition that the Type 42s have established in 30 years of service.
On completion of her tasking in the South Atlantic, the ship will undertake a number of high-profile regional engagement visits in the Caribbean and the USA. She is due to return to Portsmouth in March 2013.
Published 24 September 2012