HMS Echo sets sail for two-year deployment
HMS Echo left her home base of Devonport on Monday 3 January 2011 for a two-year deployment to conduct operations in the Red Sea, Gulf, Indian Ocean, Middle East and Far East.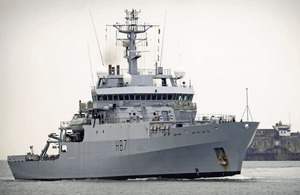 The survey ship HMS Echo and her sister ship, HMS Enterprise, are designed, operated, maintained and manned to be away from home waters and UK support for periods of up to four years.
The ships are able to collect an array of military hydrographic and oceanographic data and, due to their multi-role capability, are able to support mine warfare and amphibious operations.
To enable this year's deployment, HMS Echo has conducted significant training and undergone much maintenance during 2010. In the last year the ship has had three maintenance periods, a six-week period of Hydrographical Operational Sea Training and, just prior to Christmas, two weeks of Directed Continuous Training (DCT).
During DCT the ship's company were put to the test by Flag Officer Sea Training when they honed their military defensive, offensive and battle damage skills.
In the intervening periods the ship has been conducting hydrographic surveys around the UK.
On completion of DCT the ship's company was kept busy storing and maintaining HMS Echo over the Christmas and New Year period ensuring she was ready to leave the UK to deploy for two years.
Speaking on New Year's Eve, HMS Echo's Executive Officer, Lieutenant Commander Trefor Fox, summarised 2010 and looked forward to 2011, saying:
It has been an extremely challenging and rewarding year for Echo. Everyone has pulled together to complete the preparations required for such a long and wide-ranging deployment.
We are all looking forward to the challenges ahead, which include a significant amount of survey work and maintaining a high degree of readiness for such an extended period. We have achieved much this year and are ready to undertake any task that comes our way.