HMS Diamond sets sail on maiden deployment
HMS Diamond set sail from Portsmouth for the Middle East today on her maiden operational deployment.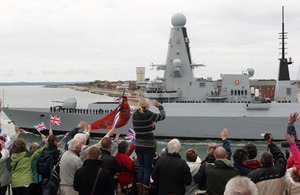 The Type 45 destroyer, which recently launched the Jubilee weekend with a spectacular ceremonial entry into Portsmouth on 1 June, will spend six months carrying out maritime security patrols in the Indian Ocean, Gulf of Aden and the Gulf, replacing her sister ship HMS Daring.
The ship will be acting as part of the Navy's standing commitment in the Middle East, providing a range of capabilities from counter piracy to reassurance of the UK's allies in the region.
Secretary of State for Defence, Philip Hammond, said:
The deployment of HMS Diamond this week marks another watershed for the Type 45 programme, with three of these highly capable destroyers now on operations worldwide.
I wish her success in her Middle East deployment where the security of the international shipping lanes continues to be of the utmost importance.
The Royal Navy continues to make a significant contribution to protecting the freedom of the seas and Britain's interests across the globe.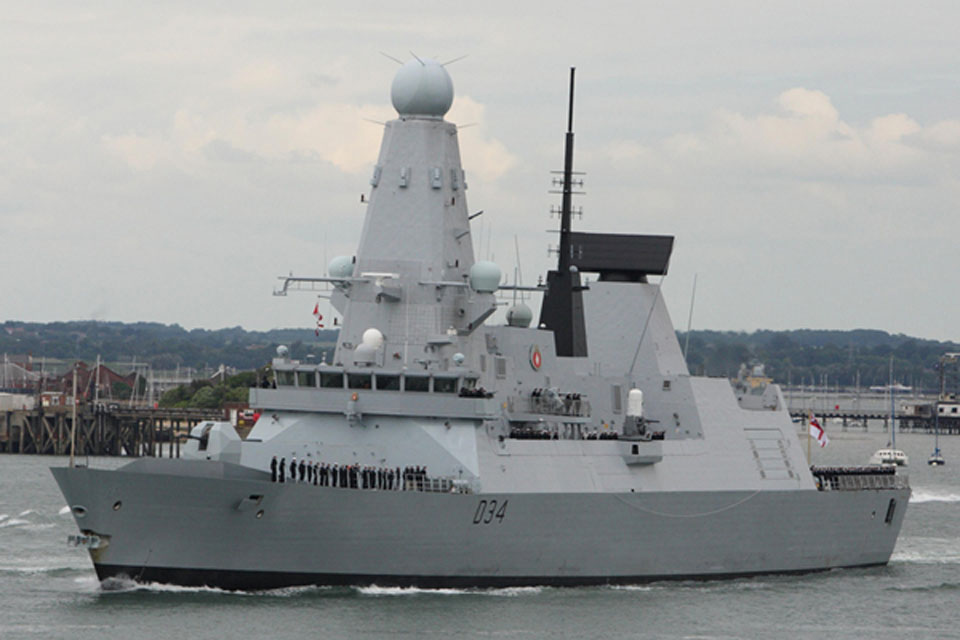 Her Commanding Officer, Commander Ian Clarke, said:
After completing months of rigorous training and intensive engineering trials, as well as the obvious pride in our participation in the national Jubilee celebrations earlier this month, Diamond is now ready in all respects to undertake her role in her first operational deployment.
The ship's company has shown that this ship has the potential and capability to undertake the variety of likely scenarios we may encounter.
Although this will be important for the ship and my people, this is not new business for the Royal Navy, which has had a continuous presence in the Gulf for many years. The deployment of Diamond to the region is entirely routine and replaces another ship already on patrol.
HMS Diamond was launched in 2007 and commissioned into the fleet in 2011. She is the third of the Navy's six Type 45 destroyers. Four have been commissioned and the remaining two will enter service over the next two years.
Published 13 June 2012