HMS Dauntless visits London
HMS Dauntless became the first of the Royal Navy's new Type 45 destroyers to visit the capital when she sailed up the Thames on Saturday to the ExCeL Centre in London's Docklands.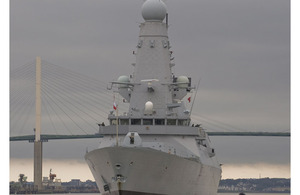 The destroyer will be moored outside the exhibition centre where the Defence and Security Equipment International (DSEi) exhibition is being held this week.
Dauntless will be present at ExCel until Saturday 17 September 2011, and will be on display to the 25,000 visitors from around the globe who travel to London to see over 1,300 defence contractors from over 50 countries.
Ships berthed in the vicinity of the ExCeL Centre provide a rare opportunity for international industry at all levels to demonstrate their equipment to potential clients.
HMS Dauntless is the second-in-class of the new Type 45 destroyers, and was commissioned in June 2010. She has recently returned from trials and exercises in America where she participated in an annual naval exercise, working alongside warships from France, Russia and the US.
Her Commanding Officer, Captain Will Warrender, said:
It is an enormous honour and privilege to be the first Type 45 destroyer to visit London, and to support this prestigious defence and security event.
HMS Dauntless represents the future for the Royal Navy, and is bristling with the newest military technology. The ship represents the finest shipbuilding skills the UK has to offer and is a great example of the high standards and capabilities of the British defence manufacturing base.
Dauntless is the fifth Royal Navy ship to carry the name (not including the one in the first 'Pirates of the Caribbean' film) and was designed primarily to defend multiple assets in an air threat environment. She is also capable of war-fighting in both traditional and littoral (close to the shore) environments.
In order to achieve this, she is equipped with the most advanced propulsion system of any navy afloat and has a plethora of technologically-advanced weapons and sensors, including the Sea Viper missile system which encompasses multi-function radar to track and engage with multiple air targets simultaneously - without doubt the most modern and advanced system of its kind in the world.
In September 2010, HMS Dauntless became the first Royal Navy warship to fire a Sea Viper missile and was awarded the Grytviken Trophy for anti-air warfare excellence later that year.
Published 12 September 2011