HMS Dauntless impresses in Atlantic exercise
HMS Dauntless impressed the members of other navies during a multinational exercise in the Atlantic last week to practise improving security at sea.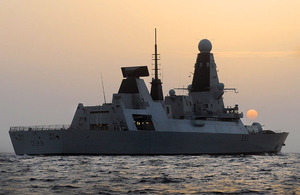 Exercise Saharan Express, which took place off the coast of Senegal, saw military personnel from 11 nations, including France, Gambia, Senegal and Morocco, training to deal with people-trafficking, piracy, drug-smuggling and illegal fishing.
HMS Dauntless, in her first operational deployment, was the most modern ship at Saharan Express, dwarfing the patrol vessels used by West African nations to tackle crime off their shores, and she opened her doors to some of the personnel from other countries.
Lieutenant Simon Mendy, from the Gambian Navy, led his boarding team around the quarterdeck and futuristic bridge of the 8,000-tonne Royal Navy ship.
Lieutenant Mendy, from Gambia's capital Banjul, said:
We've really learned from visiting Dauntless and carrying out boarding work. The ship's crew has been very helpful; this is a rare chance for us to see a warship of this size.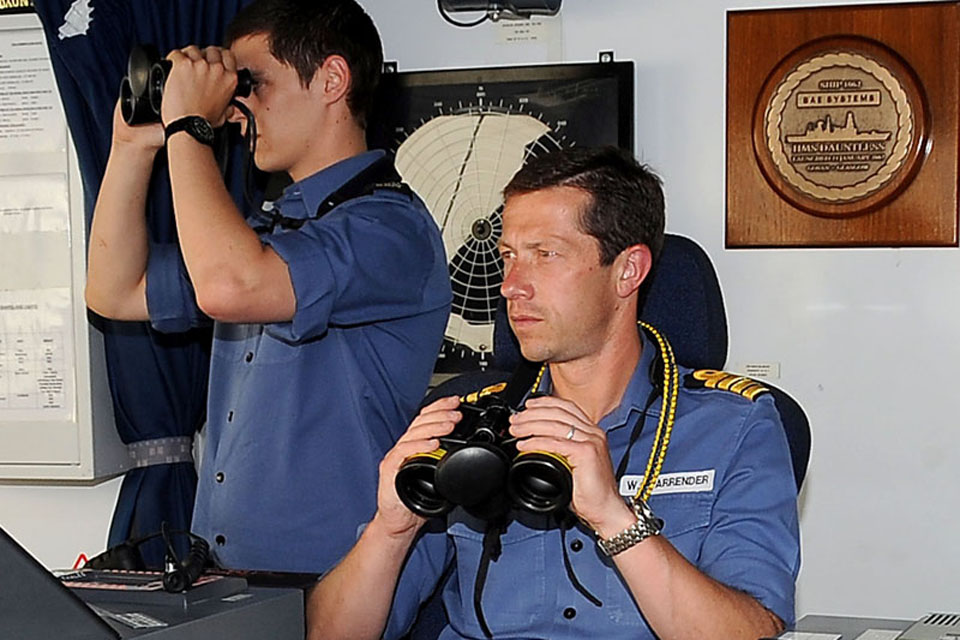 The Type 45 warship, which is taking part in the 'Auriga 12' deployment, was praised by other visiting officers.
French Lieutenant Guillaume Eudeline, from the helicopter carrier Tonnerre (meaning 'thunder'), said:
It has been a great experience seeing this ship and the technology it has - the radar is very impressive.
I believe that the French and British navies will work together increasingly closely in the future, which can only be a good thing for both of us.
Dauntless is the size of a cruiser rather than a destroyer, but can still reach speeds of up to 30 knots (56km/h) from a standing start in four times her length.
The Type 45s are the first warships in the world with entirely electric propulsion systems, a design which aims to make them 45 per cent more efficient than the ships they are replacing.
Captain William Warrender, Dauntless' Commanding Officer (CO), said the exercise had shown the versatility of the ship:
We have here a tremendously powerful warship but also one that can fulfil a range of tasks.
This exercise is exactly what Auriga 12 is about; we are meeting other navies, working with them to improve their capacity to work effectively, and at the same time continuing to learn more about what this class of ship can do.
From Dauntless' CO down to her newest arrival, Able Seaman Ryan Skipper, there is a learning curve.
Able Seaman Skipper, aged 18, from Gosport, is finding his way around the ship after just a few weeks onboard.
He said:
For the first few days you don't really know where you're going, but it has improved, and people have been nice and helpful.
I keep getting people explaining that there is a lot more space on this ship than the older ones and I've visited a Type 23 frigate, so I feel pretty lucky to be here.
HMS Dauntless is 152m long and is the second of six Daring Class Type 45 destroyers that are replacing the Type 42 class of ship.
She is also the second Type 45 to go on operational patrols - HMS Daring having left for the Gulf region in January
Published 2 May 2012