HMS Daring completes first FOST training
The Royal Navy's HMS Daring, the most advanced warship in the world, has passed her first test of teamwork under simulated battle and emergency conditions.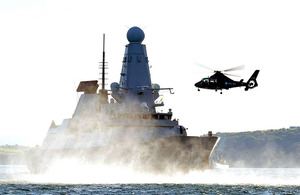 The destroyer has been at HM Naval Base Devonport, Plymouth, taking part in the most testing programme of training with staff from the Flag Officer Sea Training (FOST) organisation based at the naval base - culminating in a realistic war scenario at sea with other ships, submarines and aircraft.
For several weeks the ship has been put through her paces off the coast of Devon and Cornwall to show how her crew can cope under the most testing conditions, with trainers throwing every scenario they can at her, including attack from above and below water, and fires and floods and casualties that can follow.
The ship features cutting-edge technology in terms of weapons and detection systems and other electronic equipment, making her a formidable foe and ally.
Despite all the world-beating technology, it is the ship's crew working together as a team that makes a warship effective as a fighting unit - that is what the FOST training is achieving.
Published 24 June 2010