World news story
HMS Daring visits Japan
After supporting ongoing British relief efforts in the Philippines, advanced Royal Navy ship visits Tokyo for symbolic Japan visit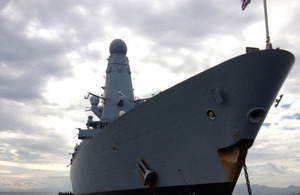 HMS Daring, the first of the British Royal Navy's six £1bn Type 45 destroyers is two thirds of the way through a nine-month deployment and was taking part in an exercise with Australia, New Zealand, Singapore and Malaysia as part of the Five Powers Defence Arrangement when she was re-tasked to the Philippines to deliver aid after Typhoon Haiyan hit the Philippines on 7 November 2013.
HMS Daring searched 32,200 square nautical miles and visited 50 islands. With aid supplied by the Department for International Development (DfID), HMS Daring provided villagers with: 500 family shelter kits; 500 hygiene kits; 500 food baskets which can feed a family of four for a week; over 7.5 tonnes of water (in water containers of between 4 and 10 litres); 223 kitchen sets; and repaired school roofs, generators and boat engines. Specialist sailors also built a desalination plant for a local well and gave medical aid with the assistance of an embarked team of 14 medics from the UK.
With HMS Illustrious now also deployed to the Philippines, HMS Daring continued on its way to Japan, the first such port call by a British ship since HMS Kent in 2008.
This goodwill visit comes at a time when the long history of UK-Japan maritime relations are being celebrated. 2013 marks the 400th anniversary of UK-Japan relations and the 4th of December is also the date that British ship The Clove departed Japan after Captain John Saris' famous first voyage from the UK to Japan.
Today, as part of the UK's contribution to good governance of the oceans, contributing to peace and security, the Royal Navy's Maritime Security Operations are conducted with allies - including Japan - covering areas such as rescue at sea and humanitarian relief operations, exemplified by ongoing efforts in the Philippines. HMS Daring's visit to Japan is symbolic of this ongoing UK-Japan cooperation and partnership that was formalised on July 4 this year when British Foreign Secretary William Hague and Japanese Ambassador to Britain Keiichi Hayashi signed two agreements on defence equipment cooperation and information security.
Both William Hague and Japanese Prime Minister Shinzo Abe have commented recently on the close defence and security partnership between our countries, expressing desire for this to continue and noting that our shared values and histories as island nations make UK-Japan navy to navy relations a critical part of a forward-looking relationship.
HMS Daring arrived in central Tokyo on Sunday 1 December, where it was berthed next to the Japanese ship Teruzuki for three days.
British festivities to celebrate the ship's visit were also held at the Yokohama Country Athletic Club from 3 to 6 pm on the afternoon of Sunday 1 December, including cricket and a performance by the Royal Marines Band.
Photos from HMS Daring's Japan visit are available on the Embassy's Flickr.
HMS Daring departed Tokyo to make its next port of call in South Korea.
Related links:
Published 26 November 2013