HMS Daring becomes first Type 45 to pass through the Suez Canal
HMS Cumberland's ship's company received a rapturous welcome home to the UK as she returned from six-and-a-half months of operations, including high-profile roles evacuating refugees from Libya and enforcing an arms embargo against the country.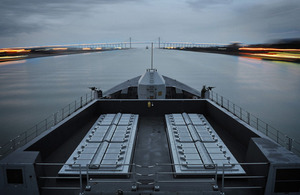 This transit marks the first time the stealthy silhouette of a Type 45 has been seen gliding through this sea highway.
The canal is 120 miles (193km) long, 205 metres wide, and provides a much shorter route for ships transiting from the Mediterranean to the Red Sea.
The alternative route around Africa and the Cape of Good Hope is significantly longer.
The transit is a key milestone in the life of HMS Daring and her first deployment of 2012.
The passage now means that Daring has officially entered her area of operations, another first for a Type 45.
The ship's force protection teams were at full readiness during the 12-hour transit and were supervised by the Gunnery Officer, Lieutenant Jason Hannigan.
He said:
We have trained repeatedly to prepare for this demanding passage.
The team performed well and the ship made the transit through the Suez exactly as planned; it was a particularly proud day for me in my career in the Royal Navy.
Some of the sights from the canal were spectacular, particularly passing under the 'Friendship Bridge', a large road bridge which spans the canal.
HMS Daring made a remarkable sight and was part of a long convoy of large merchant vessels of all descriptions.
The ship will be acting as part of the Royal Navy's standing commitment in the Middle East.
Her tasking ranges from maritime security, counter-piracy and capacity-building to the wider maritime security effort helping to maintain stability in the region, including humanitarian aid and disaster relief.
She will also work closely with other international navies in the region, including the United States Navy's Fifth Fleet based in Bahrain.
Published 2 February 2012