HMS Cornwall rescues survivors from sinking boat
The ship was conducting routine flying operations in international waters in the Mediterranean on Monday 1 November 2010 when a floating object…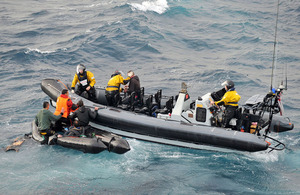 The ship was conducting routine flying operations in international waters in the Mediterranean on Monday 1 November 2010 when a floating object was spotted by the Flight Commander of the ship's Lynx helicopter approximately 60 miles (97km) north of the Algerian coast.
On closer inspection, the floating object turned out to be a sinking four-metre inflatable boat with a broken transom (rear section) - and which contained five people.
The Flight Commander, Lieutenant Commander Steve Gamble, said:
I just happened to glance out of the port window of the aircraft as we turned to approach the ship and caught a quick flash of colour, which I first thought was a fishing float.
However, not having seen any fishing activity in the area, we decided to have a closer look and to our surprise it was five people clinging to the remains of a dinghy. It was simply pure luck that we spotted them.
The sea conditions were challenging following several days of storms to the west but the ship immediately altered course to close with the dinghy and launched her sea boat to recover the survivors.
Shortly before twilight, the five were rescued from their craft and taken onboard HMS Cornwall to receive medical assistance from the ship's medical team. All were cold, wet and tired, but not suffering from any more serious injuries.
The Commanding Officer, Commander David Wilkinson, said:
In these sea conditions, they are very lucky to be alive. Whilst we are proceeding to conduct counter-piracy operations off the Horn of Africa, this kind of rescue operation proves that the ship's company and the ship herself are ready to react at a moment's notice.
Sadly, it is understood that a further five people had died earlier when the inflatable boat overturned before being spotted by the ship's helicopter. HMS Cornwall carried out a search of the area, but found no trace of the missing people.
The five survivors were put ashore in Algiers during a scheduled port visit by the ship.
HMS Cornwall left Devonport last week and is on her way to the Indian Ocean to join other Royal Navy ships and international navies to undertake counter-piracy operations.
Published 5 November 2010