HMS Clyde rescues British family in Atlantic
HMS Clyde, the Royal Navy's Falkland Islands Protection Vessel, came to the rescue of a British family in their stricken yacht 1,000 miles (1,600km) east of the Falklands on Saturday 8 May 2010.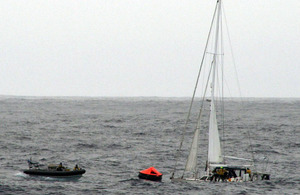 The Hollinsclough, an 18-metre Oyster, had been sailing from South Georgia to Cape Town when it hit an unidentified object and began to take on water.
Approximately 300 miles (480km) north east of South Georgia and 1,000 miles (1,600km) east of the Falkland Islands the alarm was raised via the Falmouth Maritime Rescue Coordination Centre back in the UK.
And at 1900hrs (South Georgia time) on 7 May 2010, HMS Clyde was retasked to launch a search and rescue mission in support of the stricken yacht.
Shortly after 1230hrs (South Georgia time) on 8 May 2010, the Commanding Officer of HMS Clyde and his crew on the bridge made visual contact with the Hollinsclough.
Lieutenant Robert Satterley, the Outgoing Marine Engineer Officer, and his team were dispatched to the yacht to determine the extent of the damage and the possibility of rendering assistance.
Lt Satterley said:
When we approached the yacht, we were relieved to see that there were four people alive and well.
The yacht had sustained severe damage and lay low in the water and it was clear that the family had been through quite an ordeal.
Unfortunately nothing could be done to save the yacht and we were just glad to get them back to the ship safely.
Lieutenant Commander Steve Moorhouse said:
Although it was very sad that the Hollinscloughs' trip has been curtailed in these circumstances, the flexibility and response of my team over the last 24 hours has been outstanding and has ensured that the Hollinsclough family has been rescued safely.
HMS Clyde is an Offshore Patrol Vessel that is permanently deployed to the South Atlantic with crew rotation staggered over a six-month period.
Published 10 May 2010