HMS Campbeltown makes historic final voyage to St Nazaire
Royal Navy Type 22 frigate HMS Campbeltown has marked the 69th anniversary of a World War Two battle with two Royal Navy veterans.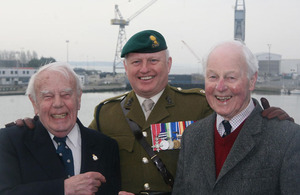 At the end of March 2011 the ship sailed from Falmouth to St Nazaire, in western France, scene of the first Campbeltown's main battle honour, with veterans Bill 'Tiger' Watson MC and Stephen Barney on board.
Also present were a contingent from 131 Independent Commando Squadron Royal Engineers and 29 Commando Regiment Royal Artillery - units which have a connection to the St Nazaire raid, also known as Operation CHARIOT.
The raid involved the then destroyer HMS Campbeltown being packed with delayed-action explosives and being rammed into the Normandie dock gates on 28 March 1942.
The action put the dock out of service for the Nazis for the rest of the war. At the same time a force of commandos landed to destroy machinery and other structures.
The current ship's Commanding Officer, Commander Keri Harris, said:"It is humbling to think that St Nazaire was very heavily bombed by the allies and had to be rebuilt after the war, but they still venerate the memory of the first HMS Campbeltown and the audacity of Operation CHARIOT.
This turned the tide in the Battle of the Atlantic and gave the French hope in 1942. Their remarkable gratitude and bonhomie is still evident today.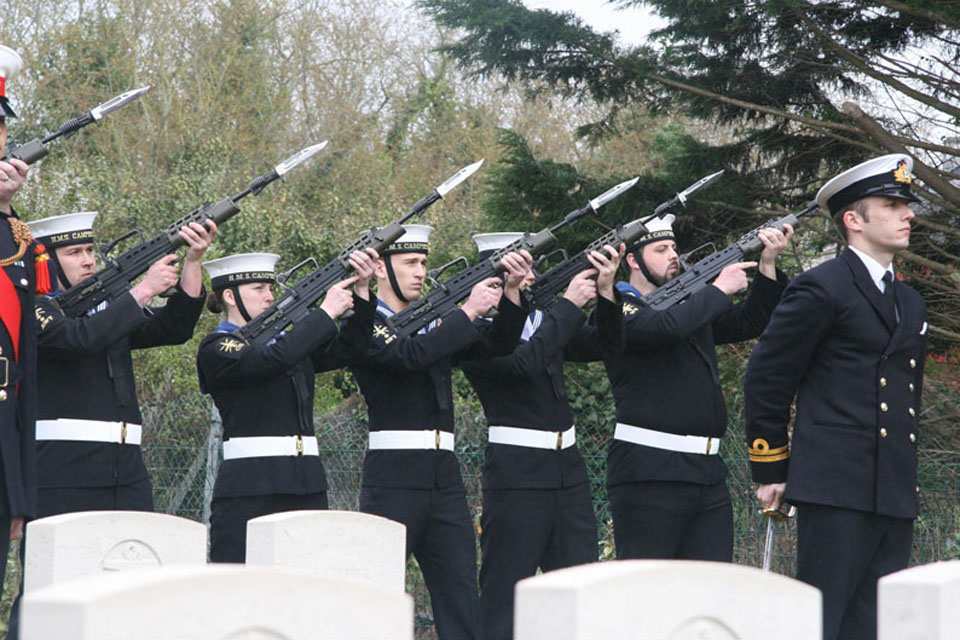 The name HMS Campbeltown has a distinguished record of Royal Navy service during World War Two, with honours for the Battle of the Atlantic, 1941-1942, in addition to Operation CHARIOT at St Nazaire in 1942.
The current HMS Campbeltown conducted a seven-gun salute on her departure from St Nazaire, the ship's final port of call under the White Ensign before she was decommissioned at Devonport Naval Base on Thursday 7 April.
A parade and ceremonial guard marked the event in front of an audience of invited guests, including former commanding officers, before a decommissioning cake was cut by Writer O'Sullivan, the longest serving Able Rate on board.
Published 8 April 2011