HMS Bulwark prepares for Paralympics security role
After her involvement in the London 2012 Olympics, the crew of HMS Bulwark is preparing to serve as the hub for the security effort surrounding the Paralympic sailing events.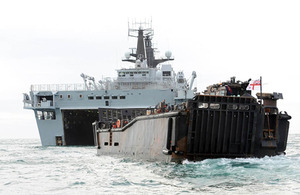 The assault ship will serve as the command and control centre for maritime security operations around Portland for the duration of the Paralympic Games, which begin tomorrow, with sailing events starting on Saturday with the keelboat races.
From her operations room, Bulwark will direct the movements of Royal Marines raiding craft, patrol boats and civilian launches and boats, and be fed live imagery of the waters around Weymouth by special cameras fitted to Fleet Air Arm Merlin helicopters on patrol overhead.
The flagship has relieved Royal Fleet Auxiliary vessel Mounts Bay which has spent the past month providing office administrative support and accommodation facilities for small boat crews, docking and maintenance facilities for raiding craft, planning rooms for Navy logistics staff, and offices and briefing rooms for police and 43 Commando Fleet Protection Group Royal Marines.
Mounts Bay is now moving a short distance along the coast to Bournemouth in time for the town's air festival, where she'll be taking part in an amphibious assault display.
As for Bulwark, she'll be alongside in Portland Harbour for the duration of the Paralympics - unlike the Olympics when she was 'parked' in Weymouth Bay.
Once again Bulwark will be aided by Merlins of 814 Naval Air Squadron; the latter were airborne for 12-hours-a-day during the Olympics as they kept an eye on shipping movements off the Dorset coast.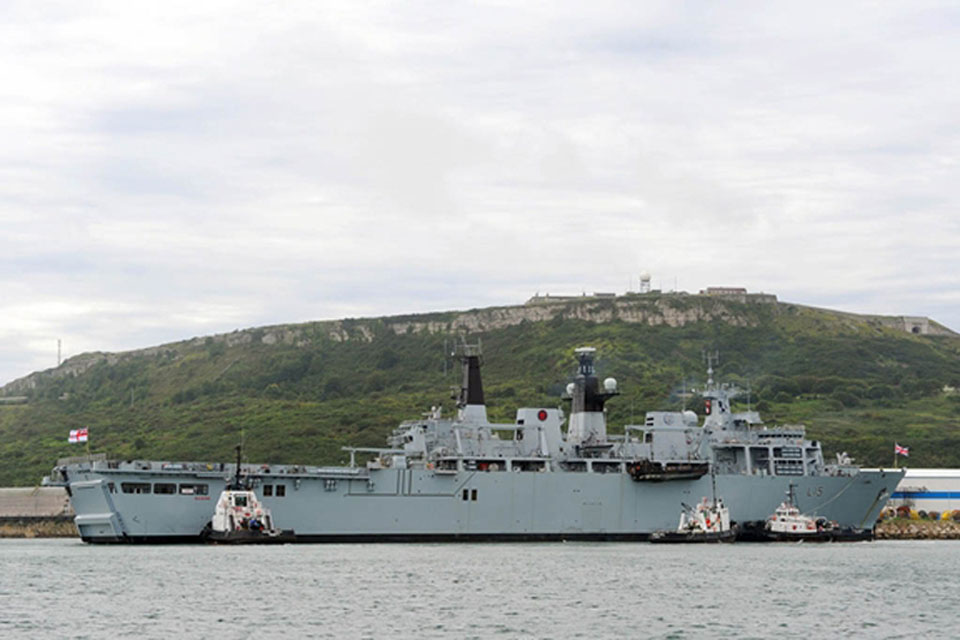 The Merlins returned to base at Culdrose during the interlude between the Olympic and Paralympic Games, while Bulwark sailed back to Devonport to host a families' day:
I'm really proud of our people," said Commander Kevin Rowlands, Bulwark's Second-in-Command.
Working with the police, Maritime and Coastguard Agency, the Border Agency and the London Organising Committee of the Olympic Games is not normal business for us and the team has risen to the challenge.
It has been great to be part of the Games and we are all looking forward to helping out at the Paralympics. I hope that we get to meet some of the Paralympic athletes - they are the real heroes.
Dorset Police's Assistant Chief Constable, Adrian Whiting, said that over the first phase of Operation OLYMPICS the combined military-civilian team had worked 'superbly well' during what was the 'largest maritime policing operation ever' in the UK.
In addition to Bulwark in Portland, the Royal Navy's biggest warship, HMS Ocean, remains on the Thames supporting events in the capital, serving as a helicopter launch pad and floating accommodation for some of the military personnel assigned to Operation OLYMPICS.
There are also P2000 patrol boats safeguarding the Thames Estuary.
Published 28 August 2012