HMS Bulwark leaves dry dock in £30m refit
The Royal Navy amphibious landing ship HMS Bulwark has been floated out of dry dock after 127 days as part of a £30m refit at Devonport Royal Dockyard in Plymouth.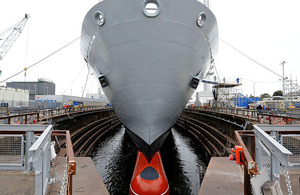 At the end of the refit programme the ship will be more advanced for helicopter flying and have improved accommodation.
Babcock, the prime contractor, and the ship's company achieved the important refit milestone with a delay of just a single day caused by the near gale force winds that prevented the 20,000-tonne ship's safe passage through the narrow gap of the dock.
A significant improvement for the amphibious task group to which the ship belongs is conversion of HMS Bulwark to full tactical night-vision capability by her landing craft and aircraft and the capacity of the flight deck to simultaneously operate two heavy-lift Chinook helicopters.
So far, the hull and propeller shaft work have also been completed to schedule and freshly painted in technically-advanced anti-fouling paint.
The finishing touches will now be added to the extensive accommodation enhancements for the 380 sailors and marines to move themselves and all the ship's equipment back onboard in late October.
This is the first major refit of the ship and has included additional improvements to the machinery and magazine spaces, the ship's high voltage propulsion system, advanced communication sensors, IT network capability and defensive weapon upgrades.
Commander Nick MacDonald-Robinson, HMS Bulwark's Commanding Officer, said:
The undocking demonstrates the success of the significant work undertaken so far by my ship's company and the contractors here in Devonport, of which I am justifiably proud.

There is, however, still a considerable amount of work to be done to attain a successful move onboard of my ship's company and to allow the ship to progress toward sea trials.

The close working relationship we have established with Babcock this past year will undoubtedly prove to be successful and allow us to achieve each milestone to schedule over the next months.
HMS Bulwark is the Royal Navy's newest commando assault and command and control ship.
Launched in November 2001 she has a ship's company of 380, a quarter of whom are made up from members of 4 Assault Squadron Royal Marines.
The ship can carry up to 200 Royal Marines in dedicated accommodation for long periods and another 500 troops for short periods.
Her flight deck can accommodate two Chinook or two Merlin helicopters. A large floodable dock holds four large landing craft - with another four carried on davits on the ship's sides.
Published 21 September 2010