HMS Bulwark develops her twin Chinook capability
To develop her lift capacity the Royal Navy's flagship, HMS Bulwark, has been operating with two CH-47 Chinook helicopters whilst transiting north to the Tyne.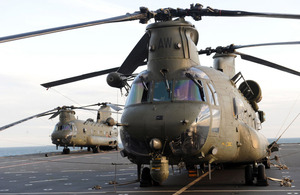 The purpose of the aircraft's visit was to refine and develop twin CH-47 operating procedures to allow Bulwark to operate two of the 30-metre-long aircraft sequentially.
But with only eight metres between the two aircraft's rotors and four-and-a-half metres between the front aircraft's rotors and the superstructure, it was always going to be a tight squeeze.
The amphibious assault ship first operated two CH-47s in 2006, during Operation HIGHBROW, when the 18,000-tonne warship evacuated over 1,300 personnel from Lebanon in one day.
Following that successful operation, Bulwark's deck was modified as part of her £30m refit package. The modifications included new deck markings, and the removal and relocation of obstructions.
The 17-tonne Chinooks, from RAF Odiham, are primarily used for troop movements and can carry up to 55 troops or ten tonnes of freight.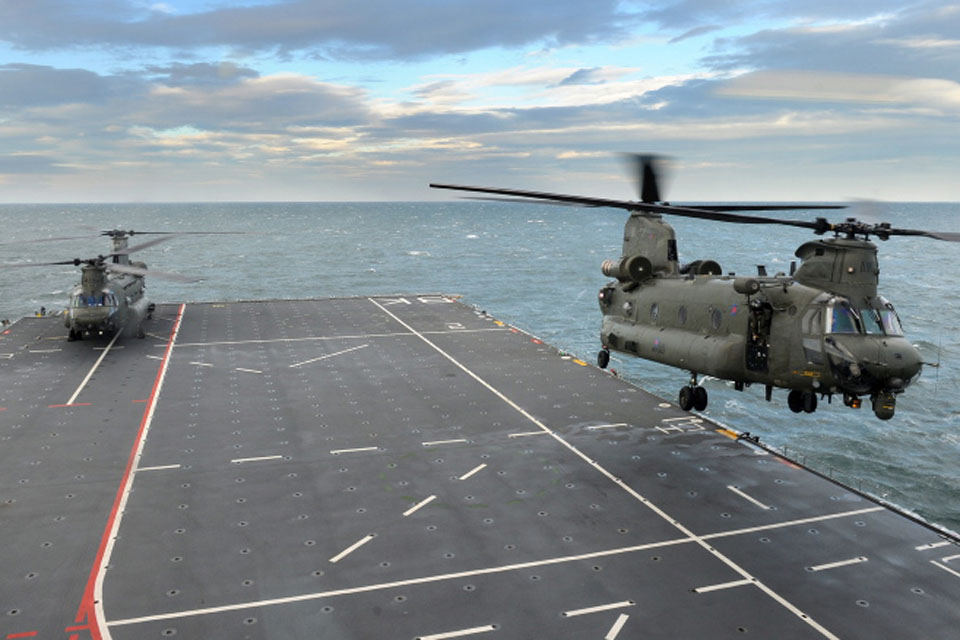 Speaking about the trial, Bulwark's Aviation Officer, Lieutenant Mark Taylor, said:
We are very excited about proving the ability to operate two Chinooks concurrently from Bulwark's deck. These are very versatile helicopters and can be operated in a range of environments from cold weather 'arctic' conditions to desert warfare operations.
Twin Chinook operations will significantly increase the ship's lift and shift capability.
The aircraft were flown by crews from 7 Squadron and the Joint Helicopter Command Operational Evaluation Unit based at RAF Odiham and RAF Benson respectively.
A series of day and night approaches and landings were successfully undertaken during the trial which lasted for two days in the North Sea near to Scarborough.
The 340 crew will now continue north to visit North Shields during which time they will exercise the Freedom of the City of Durham with a march through the city and a service at the cathedral.
HMS Bulwark will then return to Plymouth where she will remain prepared to sail anywhere in the world as the UK's high readiness on-call unit.
Published 2 November 2011