HMS Astute returning to HM Naval Base Clyde
HMS Astute was unable to free herself at first but refloated on the first high tide on Friday night. This was a non-nuclear incident and there…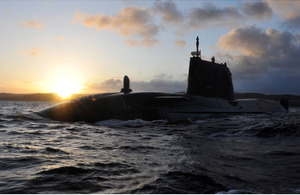 HMS Astute was unable to free herself at first but refloated on the first high tide on Friday night.
This was a non-nuclear incident and there was no nuclear contamination risk.
No part of Astute's nuclear propulsion system was damaged or was in danger of being damaged. The reactor is completely safe.
No personnel were injured in the incident or were in danger of injury throughout the process.
There was no environmental impact.
Initial surveys of Astute have now been completed and she will proceed to HM Naval Base Clyde at Faslane under her own power, escorted by tugs and HMS Shoreham.
A full Service Inquiry will be held as soon as is practicable after she arrives back in Faslane.
Published 25 October 2010