HMS Astute arrives home from US sea trials
The hunter-killer nuclear submarine HMS Astute, the first of the Navy's next-generation submarines, is the most advanced submarine Britain has…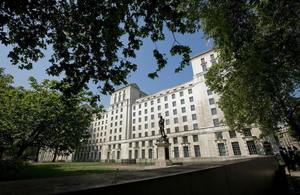 The hunter-killer nuclear submarine HMS Astute, the first of the Navy's next-generation submarines, is the most advanced submarine Britain has ever sent to sea.
She has spent the last four-and-a-half months off the eastern seaboard of North America undergoing extensive trials, including firing her main weaponry for the first time.
She spent 77 days at sea, 65 alongside, and was inspected by 18-stars-worth of American and British naval authority - including the First Sea Lord and America's naval equivalent, the Chief of Naval Operations.
She 'battled' against USS New Mexico, America's newest and best Virginia Class hunter-attack submarine, deep dived, fired her Tomahawk Land Attack Missiles, and over the course of the deployment sailed 16,400 miles (26,400km).
Her Commanding Officer, Glasgow-born Commander Iain Breckenridge, aged 45, was met in the Clyde yesterday by his wife Steph, and she sailed with him the last few miles to the Coulport side of HM Naval Base Clyde.
He said:
We are looking forward now to a bright future - this is a submarine of tremendous capability.
Of the deployment, which saw them visit the giant US Naval Base in Kings Bay, Georgia, Commander Breckenridge said:
We met and surpassed every expectation. She is just better than any other submarine I have ever been on.

Astute is still on trial and she is first of class which always brings its own problems, but we are beginning to look beyond those problems and see the promise.

We fired off four Tomahawks, aimed at a corner of Eglin Air Force Base to test for accuracy, and we fired six Spearfish torpedoes, including the first salvo firing by a British submarine for 15 years.
Our sonar is fantastic and I have never before experienced holding a submarine at the range we were holding USS New Mexico. The Americans were utterly taken aback, blown away with what they were seeing.
Commader Breckenridge, whose first submarine was diesel-powered HMS Olympus, basically a redesign of Second World War technology, added:
This is the future - Astute is on her way - and she is still a trials boat.
The oldest man on board, coxswain Chief Petty Officer John Adam, aged 50, from Old Kilpatrick, said:
To have achieved what we achieved is a very significant milestone. The whole world was watching us and we did it. To serve on a boat like this in the twilight of my career has actually been the highlight of my career.
The youngest man on the 7,800-tonne boat, Stoker Jonathon Ball, aged 19, from Ballyclare in Northern Ireland, only signed up in January of last year. Astute is his first submarine and the deployment marked his first trip to America:
I volunteered for this because it was the bigger challenge and submarines are a lot more interesting than skimmers," he said. "America was just great.
Astute will never need refuelling. Her sonar can track ships 3,000 miles (4,830km) away and her missiles have a target range of 1,200 miles (1,930km) - with accuracy measured in metres.
Not only that, Naval Command in Britain can reprogramme the missiles in mid-flight and aim for another target, even if the submarine is thousands of miles away.
Next in line for Astute is a base maintenance period at Faslane, before returning to sea later in the year for more trials.
Commander Breckenridge concluded:
She is one awesome piece of kit - and I am very proud of the fellowship that has formed in a very fine crew.
We need your help! We are trying out designs for a new single website for all of government and we'd love your feedback. Please visit the 'Government beta site' by clicking on the link under Related Links.
Published 2 March 2012