HMS Ark Royal bows out in Portsmouth
HMS Ark Royal has entered her home port of Portsmouth for the last time today, bringing her 25 years of service in the Royal Navy to a close.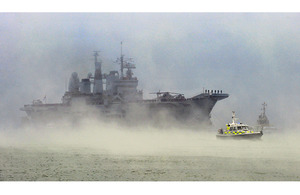 The aircraft carrier is being decommissioned as part of the Strategic Defence and Security Review. Her role as the current Royal Navy flagship will initially be taken on by amphibious assault ship HMS Albion.
Following a brief farewell tour of the UK and a stopover in Hamburg, the aircraft carrier, which is being decommissioned early next year, sailed into Portsmouth Naval Base today, and in keeping with tradition flew a decommissioning pennant.
Ark Royal's farewell voyage took her around the north of Scotland and on into Newcastle where she was built by Swan Hunter in their Wallsend shipyard.
The ship's Commanding Officer, Captain Jerry Kyd, said:
There is no question that there is a certain amount of sadness attached to this final deployment, but it is also an opportunity for us to celebrate the Silver Jubilee of this fine ship and for us to show her off once more.
She has played a very important role throughout her history and we have always been lucky enough to draw great affection and support from the British public wherever we go.
For me, personally, I have been exceptionally proud to serve as her Captain - my very first job after finishing my initial officer training 25 years ago at Dartmouth was in the then brand new HMS Ark Royal. It is therefore a great honour for me to be able to command her farewell tour as her last Captain.
The fifth vessel to bear the proud name, Ark Royal was launched by Her Majesty Queen Elizabeth The Queen Mother on 20 June 1981, accepted into service on 1 July 1985 and commissioned on 1 November 1985.
During her busy life the ship has seen service around the globe and has adapted from her original role as an anti-submarine helicopter carrier designed for the Cold War to the commando helicopter and carrier strike role of recent years.
The fleet flagship's operations have included playing a pivotal part of the NATO campaign during the Bosnia conflict and, in early 2003, leading the UK's naval forces during Op TELIC, the invasion of Iraq, with a fleet of helicopters embarked.
Captain Kyd paid tribute today not only to the ship itself, but also to the crew with which he has worked on HMS Ark Royal over the years. He said:
I am very fortunate to be at the helm of an exceptional crew, whose professional skills will be reallocated and valued in the wider Royal Naval Service, long after the ship herself has been decommissioned - so her work and memory will continue to serve the Royal Navy well.

I am only too aware that this famous ship and her iconic name mean so much to so many, but although Ark Royal will be decommissioned, the Queen Elizabeth Class aircraft carriers are vastly more capable and provide the Royal Navy with an exciting future.
Earlier this year HMS Ark Royal led a large multinational task force during Exercise Auriga and has demonstrated her versatility by operating a wide range of aircraft, including Joint Force GR9 Harrier jets and US Marine Corps AV-8B Harrier jets, as well as Chinook, Apache, Sea King, Merlin and Lynx helicopters.
Published 3 December 2010