World news story
HMS Argyll visits Havana
The ship arrived on Sunday 30 November for an informal visit and will leave the city on Thursday 4 December.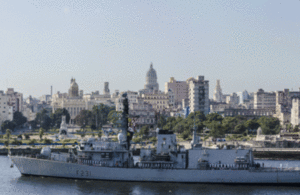 Senior Cuban officials will be hosting series of meetings with the crew to exchange views and experiences on disaster relief , rescue, counter-narcotics,and also on both UK and Cuban contributions to the international effort to fight Ebola.
The ship opened to the public on Sunday 30 November at the Sierra Maestra Terminal and part of his crew took part in a rugby match facing a team of the Cuban Rugby Association.
British Ambassador Tim Cole commented on the visit:
"We are looking forward to having HMS Argyll in Havana. The visit is an excellent opportunity to share views and expertise on disaster-preparedness and counter-narcotics, areas in which both countries have long experience. We also look forward to discussing Ebola; both the United Kingdom and Cuba are making significant contributions to the international effort in Sierra Leone. I am glad the ship arrives so soon after Foreign Office Minister Swire's visit to Cuba, so that we can make a start on the plans he put in place to take our bilateral relationship forward"
Published 2 December 2014