HMS Argyll arrives home following major refit
Families and loved ones gathered on the jetty at HM Naval Base Devonport to welcome the Type 23 frigate home. The refit included the replacing…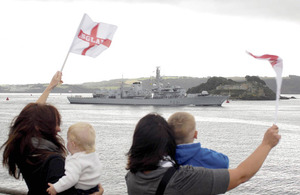 Families and loved ones gathered on the jetty at HM Naval Base Devonport to welcome the Type 23 frigate home.
The refit included the replacing of two of the vessel's four diesel generators and one of her gas turbine engines. The main 4.5-inch (114mm) gun has been upgraded, and the ship received a new paint-job to improve her efficiency through the water.
Commander Paul Stroude, HMS Argyll's Commanding Officer, said:
It is great to be back home in Plymouth where we will all enjoy getting the well-earned opportunity to spend more time with our families. Our return to our base port also signals the next step in our regeneration where we will put to the test and prove the variety of new systems in place.

This will secure HMS Argyll's status as a flexible and potent fighting force, ready to face many more years of worldwide tasking after she returns to the fleet at the end of the year.

I cannot emphasise enough how much of an achievement it has been for the partnership to get HMS Argyll back to sea - the complexity of the work package is extraordinary but we have delivered.

The ship is in superb condition, which was recognised when we passed our ready-for-sea-date inspection. We sailed with a whole host of new and exciting capabilities that has made HMS Argyll a potent fighting force, able to support and protect UK interests worldwide for many years to come.
Commander Stroude said the crew had earned a long weekend of leave because they had been worked hard putting the ship through its paces.
Between 2005 and 2009 HMS Argyll spent long periods at sea on operations worldwide. The imperative was to get the ship into a dry dock away from operational pressures for a deep overhaul. HMS Argyll is the first Type 23 frigate to undergo a second major refit.
HMS Argyll has performed in a number of different roles, including counter-piracy and counter-terrorism east of Suez, and drugs seizures in UK waters.
Along with fresh paint on the upper decks she has been coated below the waterline with a special paint to prevent the build-up of sea life which would slow the ship. This also makes her more fuel-efficient.
Internally, a new command system, the most advanced afloat in the Royal Navy today, means the ship has enhanced capability against air, surface and underwater threats. The ventilation system has also been improved to make living and working onboard more comfortable during even the warmest of climates.
The Sea Wolf missile system has received upgrades which improve HMS Argyll's ability to counter evolving anti-ship missile threats and mounts for new small calibre guns mean she is better equipped to deal with threats from small boats and perform anti-piracy operations.
Lieutenant Commander Patrick Hunt, the ship's Weapon Engineer Officer, said:
The upgrading of the ship's fighting systems has been phenomenal, with a new point defence missile system, new medium-range gun, new boat-launching equipment and a new command and control system all installed at the same time.

Previously, many of these upgrades have been completed in isolation, given their complexity, but they are sufficiently mature to do them together. This means Argyll leaves Rosyth docks, where she was refitted, more capable across the full range of her capabilities.
While this refit has taken the best part of a year, thanks to the hard work, determination and team work of the partnership, the project has met every deadline set.
The crew were able to move back onboard ten days ahead of schedule, allowing them extra time to build up familiarity with the new systems and better prepare them for the rigours of the sea trials that will follow.
The ship will undergo further trials and operational sea training next year in advance of any future deployments.
Published 7 October 2010