HMS Albion ready for operations
The Royal Navy's fleet flagship, HMS Albion, has successfully passed her sea training and is poised for global operations.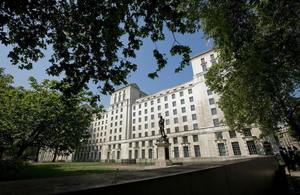 The Plymouth-based ship has passed her intensive period of assessed sea training under the scrutiny of the staff of Flag Officer Sea Training.
The training tested every capability of the ship and her crew in a multitude of challenging war and humanitarian scenarios. She is now assessed as ready for operations of any sort, at any time, anywhere around the world.
The culmination of the training was a simulated evacuation of civilians from a conflict-ravaged foreign country where law and order was breaking down.
This involved the amphibious command and control ship using helicopters and landing craft to collect 'evacuees' from four landmarks in south east Cornwall and Plymouth.
Currently alongside at HM Naval Base Devonport for light maintenance, HMS Albion remains in a state of very high readiness.
This means she is able to be activated at very short notice for operations anywhere in the world. Her highly efficient electric propulsion system gives her a range of over 8,000 nautical miles (15,000km) and an endurance close to that of a nuclear submarine.
Her Commanding Officer, Captain James Morley, said:
Albion's unique capabilities - as a floating headquarters that can also land a military force at a time and place of our choosing - mean we are the perfect platform for a wide range of military or humanitarian operations.
Published 1 March 2011