HMS Albion assumes role of fleet flagship
HMS Albion, the amphibious assault ship based in Plymouth, becomes the flagship now that the previous flagship HMS Ark Royal is in the process…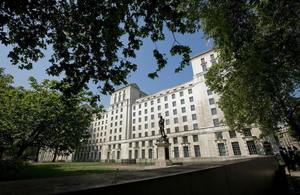 HMS Albion, the amphibious assault ship based in Plymouth, becomes the flagship now that the previous flagship HMS Ark Royal is in the process of being decommissioned.
The decommissioning of HMS Ark Royal was announced in the Strategic Defence and Security Review. She entered her home port of Portsmouth for the last time on 3 December 2010 flying a decommissioning pennant. See Related News for more on this.
HMS Albion becomes the first Devonport-based ship in living memory to hold the prestigious responsibility of fleet flagship.
The Commanding Officer of HMS Albion, Captain James Morley, said:
It gives all in Albion great pride to assume the mantle of flagship of the Royal Navy.
Albion is an ideal platform for this role given her versatility and unique capability as a floating command centre.
HMS Albion is currently held at very high readiness for unexpected operations around the world.
She is at the vanguard of the Armed Forces' contingent capability for unforeseen events that may require a maritime response from the UK.
Notwithstanding the defence main effort in Afghanistan, her high state of readiness is a reminder that the UK's Armed Forces must remain prepared for events elsewhere.
She is capable of commanding and controlling a major operation at sea or on land, landing an amphibious fighting force, providing humanitarian assistance, and evacuating civilians to safety, as she demonstrated at Santander during the volcanic ash cloud incident earlier this year.
Since early 2010, HMS Albion has been the flagship of the Royal Navy's Amphibious Task Group - a designation she will retain in addition to her new fleet flagship role.
Published 14 December 2010