HMS Albion arrives back after major US exercise
The ship's crew and Royal Marines from 42 Commando, based at Bickleigh Barracks in Plymouth, have been away from the UK since early June, taking…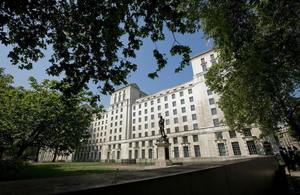 The ship's crew and Royal Marines from 42 Commando, based at Bickleigh Barracks in Plymouth, have been away from the UK since early June, taking part in Exercise Auriga off the east coast of the USA.
HMS Albion's Commanding Officer, Captain John Kingwell, said:
The training opportunities in the USA have been absolutely superb, there is nothing on the same scale here in the UK, and both the landing force from 3 Commando Brigade Royal Marines and ships have been able to hone their operational skills.

This has been a particularly special trip for me as I hand over command of this superb ship after summer leave.

HMS Albion is the Royal Navy's amphibious flagship and high-readiness assault ship and Exercise Auriga has proved the ship and its crew are ready for anything.
At its peak, the maritime force had three large warships, with the amphibious vessels and troops led by HMS Albion as flagship. The landing force from 3 Commando Brigade Royal Marines included soldiers from 29 Commando Regiment Royal Artillery, 24 Commando Regiment Royal Engineers and 30 Commando Information Exploitation Group - all from the West Country - with helicopters from the Commando Helicopter Force based at Royal Naval Air Station Yeovilton in Somerset.
Although many of the Royal Marines flew back to the UK in advance to continue training, a large contingent sailed back across the Atlantic onboard HMS Albion and the Royal Fleet Auxiliary ship Largs Bay, with their vehicles and heavy equipment.
The Auriga exercise has rehearsed the Royal Navy's ability to deploy a potent force of ships and Royal Marines far from the UK, capable of carrying out a range of tasks from fighting to providing security and stability in a war-torn state.
The exercise has also seen the integration of the aircraft carrier strike group, led by HMS Ark Royal, with the amphibious task group.
Exercise Auriga is part of a series of training exercises building on the UK's ability to conduct small-scale operations anywhere in the world, delivering amphibious forces supported by Joint Force Harrier.
HMS Albion's sailors and Royal Marines will be taking a well-earned summer break before sailing in September for more exercises off the west coast of Scotland.
Type 23 frigate HMS Sutherland is the next ship due to arrive back at Devonport Naval Base from Exercise Auriga on Friday 13 August 2010, when she will be welcomed back by family and friends.
Published 12 August 2010