Press release
HM Treasury appoints BlackRock Solutions as asset specialist advisor to the RBS bad bank review
HM Treasury has appointed BlackRock Solutions to provide specialist advice on RBS assets as part of the bad bank review announced by the Chancellor at Mansion House in June.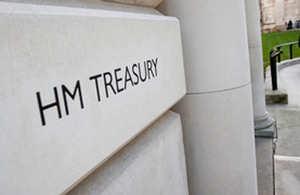 BlackRock Solutions were appointed following a competitive process run by the Treasury, and will work alongside Rothschild and Slaughter & May, appointed last week as corporate finance and legal advisors respectively to the review.
The bad bank review is assessing the merits of creating a bad bank for some RBS assets and is due to conclude in the autumn 2013.
Notes for Editors
The appointment of these advisors is related to the Chancellor's Mansion House announcement of the bad bank review.
Last week, the Treasury announced that it had appointed Rothschild as corporate finance advisors and Slaughter & May to provide commercial legal advice to the review.
BlackRock Solutions will work alongside HM Treasury, Rothschild and Slaughter & May and provide specialist advice on RBS assets to help determine whether creating a bad bank will meet the three government's objectives to:

maximise RBS's ability to support the British economy
get the best value for money for the taxpayer
do what we can to return them to private ownership

HM Treasury ran a competitive tender process that commenced on 4 July 2013, leading to this appointment. The procurement process was led by John Kingman, HM Treasury's Second Permanent Secretary, who chaired an evaluation panel with Treasury and UKFI representatives.
In line with the government's Transparency Agenda, the Treasury will publish the contract within 20 working days of contract award.
Published 12 July 2013