HM Treasury announces revision to the UK Debt Management Office's financing remit 2020-21
The government has announced an unprecedented package of measures to provide the critical support needed by individuals, families and businesses, through the economic disruption caused by COVID-19.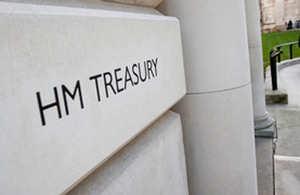 This support, and the economic impact of COVID-19, will necessarily increase the government's financing requirement compared to that set out at Budget 2020. The Chancellor has already outlined this will be fully funded through the government's normal debt management operations.
A revision to the UK Debt Management Office's (DMO's) gilt issuance plans for April 2020 was therefore published on 31 March 2020, and HMT committed to provide a broader update to the financing remit on 23 April.
HM Treasury (HMT) is today outlining a revision to the DMO's financing remit for 2020-21, covering May to July 2020 inclusive. The DMO is also publishing details of the revised planned gilt issuance schedule for May to July 2020, on its website. Planned gilt sales will now total £180 billion over this three-month period based on the government's assessment of its financing requirements.
The temporary and immediate nature of the unprecedented support announced for people and businesses means the government expects that a significantly higher proportion of total gilt sales in 2020-21 will take place in the first four months of the financial year, in order to meet the immediate financing needs resulting from COVID-19. This higher volume of issuance is not expected to be required across the remainder of the financial year.
A further update to the DMO's financing remit and planned issuance schedule for 2020-21 will be announced on Monday 29 June.
Further information
The Office for Budget Responsibility's (OBR) 'Coronavirus reference scenario', published on 14 April 2020, suggested the central government's financing requirement for the full financial year 2020-21 could increase by around £220 billion, to £382 billion. However, this an illustrative scenario, rather than a central forecast, based on the OBR's own assumptions.

The government's revised financing plans for the period April to July 2020 is set out in Table 1. The net financing requirement (NFR) for the DMO comprises: the central government's cash need plus any financing for gilt redemptions and other adjustments, less the net contribution to financing from National Savings and Investments (NS&I). Table 1 also reflects that planned interest rate reductions on NS&I variable rate products, including Premium Bonds, will not now be implemented, as announced on 17 April 2020.

Additional details of the revised gilt issuance schedule, including the DMO's planned operational calendar for May to July 2020, are set out in the DMO's financing remit announcement published on the DMO's website today.

The DMO's financing remit announcement also sets out revised plans for the issuance of index-linked gilts. At Budget 2020, the government and the UK Statistics Authority (UKSA) launched a consultation on the timing of implementing UKSA's proposal to address the shortcomings of the RPI measure of inflation. As announced on 16 April, in light of current circumstances, the deadline for responses to the consultation was extended to 21 August 2020 (subject to COVID-19 developments). The government and UKSA will respond to the consultation in autumn 2020.

Further information can be found at:
Table 1 – Revised government financing plans April-July 2020
| | | | | |
| --- | --- | --- | --- | --- |
| (£billions) | April-July 2020 | | | |
| Planned gilt issuance for April | 45 |   |   |   |
| Planned gilt issuance for May-July | 180 |   |   |   |
| Total planned gilt issuance | 225 |   |   |   |
Published 23 April 2020