World news story
Her Majesty The Queen honours Mr Peter Aagaard
Mr Aagaard has been recognised for his contribution in the improvement of conservation farming in Zambia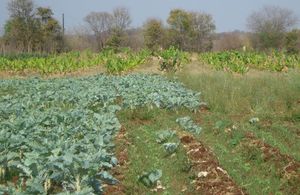 The British High Commissioner James Thornton has congratulated Mr Peter Aagaard, Executive Director of the Zambian Conservation Farming Unit, on the award of a MBE in Her Majesty The Queen's Birthday 2013 honours list: Mr Aagaard has been recognised for his contribution in the improvement of conservation farming in Zambia
The High Commissioner said;
"I am delighted that Peter Aagaard, Executive Director of the Zambian Conservation Farming Unit, has received an MBE in this year's Birthday Honours for services to the development of conservation farming in Africa. In 1995, Peter founded the CFU as a way to integrate conservation farming practices, knowledge and technologies into Zambian small-scale farming operations. Conservation farming practice enable small and medium-scale farmers to move away from environmentally destructive, low yielding and costly conventional farming practices. It also raises productivity while lowering in-farm costs and environmental impact. In 1996, the Zambian CFU started with less than 150 farmers in Zambia. Thanks in large part to the directorship, vision and agricultural technical expertise of Peter, it now extends its service to approximately 415,000 farmers across Zambia, Kenya, Malawi, Uganda and Tanzania".
Further information
• Honours are given to people from all walks of life and all sections of society who have made a difference to their community. There are several different types of award, each one recognising a different type of contribution. The British honours system is one of the oldest in the world. It has evolved over 650 years as the country has found alternative means of recognising merit, gallantry and service.
• Honours lists are published twice a year at New Year and in mid-June on the date of The Queen's official birthday. Anyone can receive an award if they reach the required standard of merit or service, and honours lists contain a wide variety of people from different backgrounds. Anyone can nominate someone for an award.
• MBE is an acronym for "Member of the Order of the British Empire." Further information on British honours can be found on the Foreign and Commonwealth (FCO) official website: https://www.gov.uk/honours
• For further information please contact the Press and Public Affairs section on tel. +260 211 423200
British High Commission 14 June 2013
Published 14 June 2013