Historic RAF squadron disbanded as F3 retires
The RAF said farewell to one of its oldest units as Leuchars-based 111 (Fighter) Squadron took a bow after 94 years.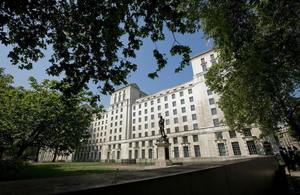 More than 400 servicemen and women joined former members of the squadron at the Scottish RAF station during a moving drawdown ceremony following the official retirement of the Tornado F3 on 22 March 2011.
Formed in Palestine in 1917, 111 (Fighter) Squadron played a leading role in the Battle of Britain and saw operational duty in Bosnia and in the first Gulf War.
In recognition of this service, a parade of servicemen and women stationed at RAF Leuchars was overseen by senior RAF officials, including the Chief of the Air Staff, Air Chief Marshal Sir Stephen Dalton.
Distinguished former members of 111 (Fighter) Squadron, including former squadron commanders Air Marshal Sir Christopher Coville, Air Marshal Peter Walker and Air Vice-Marshals Phil Roser and Peter Collins, joined Sir Stephen and serving personnel as the Tornado F3 aircraft took a bow with an emotional flypast.
Crews from 111 (Fighter) Squadron have been policing the skies over the northern UK with the Tornado F3 since 1990.
During that time, the squadron and the Tornado F3 have deployed in support of UK and NATO operations in the Middle East and Bosnia. The squadron also deployed regularly to the Falkland Islands to meet the Quick Reaction Alert (QRA) role in the South Atlantic.
Air Officer Scotland and RAF Leuchars Station Commander Air Commodore Harry Atkinson said:
This disbandment is part of our successful transition to the future as the Tornado F3 is retired from service and the Typhoons of Number 6 Squadron take post. The retirement of the Tornado F3 was planned before the SDSR [Strategic Defence and Security Review].

111 (Fighter) Squadron has had a long and distinguished history. I am certain that all former squadron members, since 1917, would be as proud as I am of the way that current members of 111 (Fighter) Squadron have diligently performed their duty, right to the very end.
Wing Commander Mark Gorringe, Officer Commanding 111 (Fighter) Squadron, added:
The squadron will leave Leuchars with our heads held high. The northern QRA role is a critical defence task and represents a fitting end to this chapter of the squadron's illustrious history ahead of our honourable disbandment.

On behalf of the squadron, I would like to thank the many sections across RAF Leuchars whose work makes effective QRA possible; it is a true team effort.

We also recognise the important support we have had from the local community in Fife and across Scotland.
Published 5 April 2011