News story
Historic fisheries deal secured by UK government
An historic deal to reform the broken Common Fisheries Policy (CFP) has today been agreed by EU Member States and is expected to become law later this year.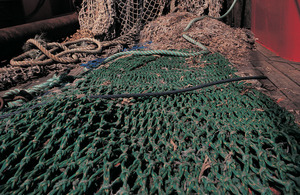 The final deal follows more than three years of difficult negotiations, in which the UK took the lead to secure significant reform of the fundamentally flawed current CFP.
The new Common Fisheries Policy will radically transform fishing practices in Europe. Reforms include:
A ban on the wasteful practice of discarding perfectly edible fish;
A legally binding commitment to fishing at sustainable levels;
Decentralised decision making, allowing Member States to agree the measures appropriate to their fisheries.
Fisheries Minister Richard Benyon said:
I have been fighting for these changes for many years and our hard work over many late nights has finally paid off.
Negotiations have not been easy, but I was determined to push this ambitious deal through and not to compromise on the issues that matter most.
This agreement hails a significant breakthrough that will make fishing more sustainable, will end the centralised one-size-fits-all approach to decision making and will make discards a thing of the past. This broken policy is finally on the right path.
The government fought for a commitment to firm dates to ban discards in the face of significant opposition. Once the agreement becomes law, a ban on discarding in 'pelagic' fisheries (such as mackerel and herring) will start on 1 January 2015 with a further ban on discards in other fisheries starting from 1 Jan 2016.
The new laws will also allow countries to work together regionally to implement measures appropriate to their own fisheries, rather than be subject to ineffective micro-management from Brussels. This 'regionalisation' process has been a top negotiating priority for the UK government which has built support for reforms to replace the over-centralised system that currently hinders progress in our fisheries.
Furthermore, we have secured, for the first time, a legally binding commitment to fishing at sustainable levels. This will ensure annual quotas will be underpinned by scientific advice, to achieve healthy fish stocks and a prosperous fishing industry.
Mr Benyon added:
We know these changes will not happen overnight, and we have a lot of work ahead to help fishermen adjust to the new reforms so that they have a more sustainable future.
This work has already begun, and we will now build on the discussions we've already had with industry to make sure the transition is as smooth as possible.
Published 14 June 2013