News story
Historic first State Visit by Irish President Michael D. Higgins
Irish President Michael D. Higgins to undertake the first ever State Visit to the UK by an Irish President from 8 to 11 April.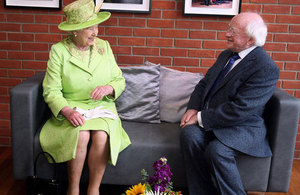 This is an historic occasion that follows on from Her Majesty The Queen's visit to Ireland in May 2011.
All State Visits are special but this one is particularly so. The visit aims to show the depth and breadth of the UK / Ireland relationship; the mutual respect and close friendly cooperation that characterises our engagement; and the myriad of family ties that link people across these islands. The visit allows for symbolic moments of reflection on the lessons of our shared history, but is largely focussed on celebrating shared culture, values and family links and looks forward to a prosperous, shared future.
During the President's visit there will be a banquet at Windsor Castle, an address to both Houses of Parliament, lunch at No 10, a banquet at the Guildhall, visits to Westminster Abbey, University College Hospital, the Royal Society, the Royal Shakespeare Company, Coventry Cathedral, Park House Stables in Kingsclere and more.
Further Information
Follow the visit on twitter @BritEmbDublin, @IrelandEmbGB and #IrishStateVisit
Read the full State Visit programme on The British Monarchy website
More information on the British Embassy Dublin website
More information on the Embassy of Ireland website
Photo credit: Department of Foreign Affairs and Trade, Ireland.
Published 7 April 2014