News story
Historic first as neighbourhood plan is voted in by community
Eden in Cumbria becomes the first area in the country to adopt a neighbourhood plan.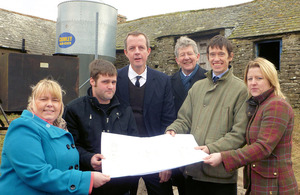 An historic landmark in community rights and localism was reached today (8 March 2013) when the first neighbourhood plan setting out a community's vision for its area was approved by local vote, Planning Minister Nick Boles said.
Neighbourhood planning is one of the new community rights introduced by government to give people more say over their area and puts communities in charge of setting out the homes, shops and amenities they want in their vicinity.
People living and working in the Upper Eden valley area in Cumbria were the first in the country to take to the polls and vote on a neighbourhood plan produced by local people for local people.
The plan was approved by 90% of voters and seeks to address several local challenges by allowing, amongst others, more affordable homes to be created by allowing more conversions and building on farms, and better broadband internet connections to be established.
Communities Secretary Eric Pickles said:
"This really is localism in action and a fantastic result for people in Upper Eden who have worked hard to make sure they are in the driving seat by deciding what's best for their community.
"A momentous moment has now been reached and I would urge people to join the hundreds of other communities already looking to reap the many benefits from having a neighbourhood plan."
Planning Minister Nick Boles said:
"This is an historic day for localism. The people of Eden have started a quiet revolution which we want to see spreading right across the country. They have had a direct say in setting out their vision for how their area should develop and deciding how they want to meet local challenges.
"The Upper Eden neighbourhood plan will help people like Mark and Sonya build a home for themselves on the family farm at Kirkby Stephen.
"Neighbourhood planning is an incredibly important new right and one that provides a real opportunity for people to bring about the homes, shops and facilities they want to see to make their community thrive."
Community Rights Minister Don Foster said:
"For too long communities have not had a big enough say in what happens in their local area, whether it be about what happens to local amenities, how local services are delivered, or how new development is planned.
"We are taking action giving community, voluntary and charity groups the opportunity to take the initiative not just on how planning decisions are made, but also how local public services are run and new powers to help keep valued land and buildings such as the local pub, shop, library or football ground in community use."
Chairman of the Upper Eden Neighbourhood Plan group, Tom Woof, said:
"We're very pleased with the vote. Our turnout target was the Police and Crime Commissioner (PCC) vote which here was higher than the national average at nearly 19%. We have beaten that by 15%. The result is fantastic; 1,310 yes votes means that we not only have the simple majority required but also a ringing endorsement."
Neighbourhood planning replaces top down regional planning, ending the planning resentment that stops the homes, businesses and facilities people want being built. It gives communities a new role and strong voice in local planning.
More than 500 communities are now making use of the new neighbourhood planning powers that for the first time enable them to benefit from plans that have real statutory weight in the planning system.
People in Thame, Oxfordshire, will now vote on their neighbourhood plan after the community's draft plan passed independent inspection this week. The plan, which is the first to set out specific sites for development, will now go to local vote on 2 May 2013.
Further information
Further details of the plan are available on the Upper Eden Community Planning group website
Further information on neighbourhood planning and the other new community rights can be found on GOV.UK.
Published 8 March 2013