Press release
Historic 1930s lido wins coastal heritage photo competition
Grange-over-Sands lido has won our coastal heritage photo competition after receiving the highest number of public votes.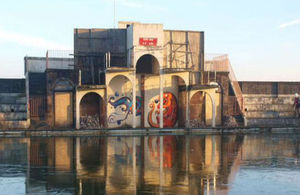 A photo of an historic Grade II listed 1930s lido has been crowned the winner of our coastal heritage photo competition after receiving the highest number of public votes.
The snap taken by Susannah Bleakley, from Morecambe Bay, of Grange-over-Sands lido saw off competition when more than 3,000 people voted for it online.
The iconic saltwater lido is the only remaining coastal lido in the north of England and although closed since 1993 the council is bidding for funding from the Heritage Lottery Fund to restore it to its former glory.
The competition, run jointly with English Heritage, saw more than 1,000 photo enthusiasts enter by tweeting a photograph of a local heritage site known for its cultural significance, unusual architecture, or contemporary use.
Many of these icons provide inspiration that helps turn towns around and the photos unearthed a range of coastal treasures from picturesque piers, vibrant beach huts to striking lighthouses. More than 11,000 people voted across 24 shortlisted snaps.
The government is committed to supporting coastal towns so they can drive forward their local economies and encourage investment as part of the long-term economic plan to secure a brighter future for Britain.
The top 3 winners will each receive a photography master class with an English Heritage photographer and 7 runners up will receive copies of The English Seaside, published by English Heritage.
Coastal Communities Minister Penny Mordaunt said:
I'm delighted Grange-over-Sands lido has won our coastal heritage photo competition. Lidos are such an important part of our heritage and as the only surviving lido in the north of England it is great we can recognise this important historic landmark in this way.

I wish the council all the best in their continuing bid with the Heritage Lottery fund to restore this saltwater lido to its former glory.
Laurie Magnus, Chairman of English Heritage said:
The sheer quality of the photographs received is testament to the pull our coastal heritage has over us. Not only are the winning pictures beautiful and evocative, but they also celebrate a unique part of our identity.

The Grade II listed Grange-over-Sands lido is a powerful reminder of the popularity of sea-side towns. Built between the wars, it characterises the period in its combination of design flair, outdoor leisure and a devotion to the culture of sea, sun and fresh air.
Winner, Susannah Bleakley from Morecambe Bay said:
I am flabbergasted to have won and I'm proper chuffed. This photo has captured people's memories of what a fun and fashionable place Grange-over-Sands lido used to be where people met and made friends. I've been overwhelmed by the support I received and a big thank you to everyone who engaged with and voted for this photo.
The list of the top 10 winning photos are:
Further Information
The full list of shortlisted and entrants to the competition are available to view on the Coastal Communities Alliance website.
The government is committed to supporting coastal communities through our £116 million Coastal Communities Fund which is funding 211 projects across the country. The fund is creating almost 12,400 jobs and providing more than 6,000 training places and apprenticeships.
The fund is supporting projects that demonstrate the creativity, enterprise and passion needed to help seaside towns become year round destinations that people are proud to live and work in.
Office address and general enquiries
2 Marsham Street
London
SW1P 4DF
Contact form https://forms.communit...
General enquiries: please use this number if you are a member of the public 030 3444 0000
Published 19 March 2015