Historian Slobodan G Markovic receives the British Empire order in Serbia
Ambassador Keefe presented Markovic with MBE for his efforts on strengthening relations between the two countries.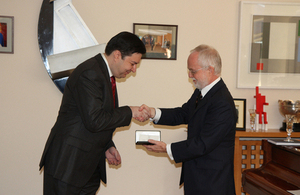 Her Majesty's Ambassador to Serbia Denis Keefe on 12 December presented the Order of the British Empire to historian and Professor Slobodan G Markovic.
Ambassador Keefe said that Markovic had deserved the honour for his long-time devotion to improving research and scientific cooperation, as well as promotion of academic relations between Serbia and Great Britain.
The ambassador further said that several hundreds of young people from Britain, Serbia and the region had been given the opportunity to build their knowledge and contacts through different study programmes organised by Markovic.
Keefe noted:
It is a long-lasting legacy of his work.
Markovic said that the honour stood as a recognition of him, but also of other people who had been engaged in promoting British-Serbian ties.
Markovic earned his Masters degree in history at the University of Cambridge and is one of the most active members of the Chevening Alumni Network in the Western Balkan region. Since 2012, he is an associate of the London School of Economics and Political Science.
For more images from the ceremony take a look at UKinSerbia Flickr photo album.
Published 16 December 2014